HISTORICAL EVENTS THAT TOOK PLACE ON THIS DAY IN CANADA
18 December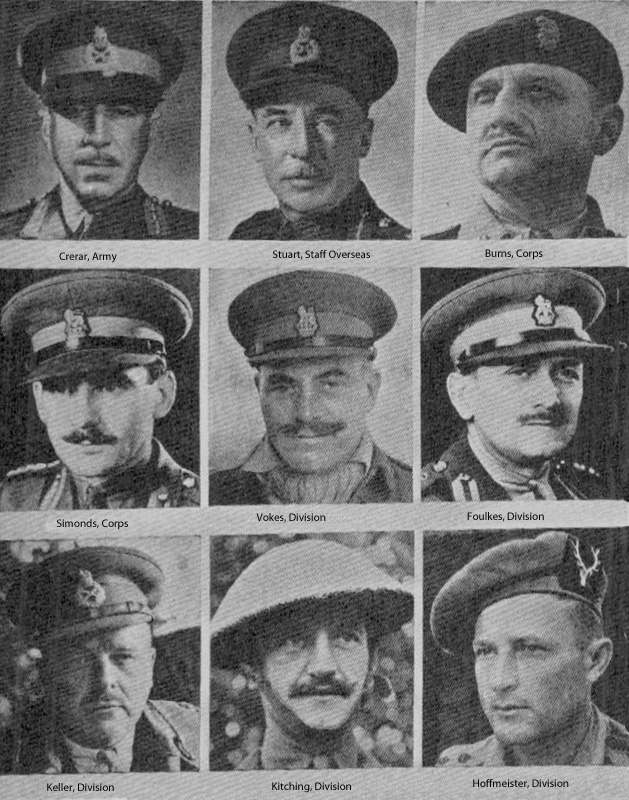 Canadian Overseas Generals, 1914
1st Div. Reaches U.K.
Although World War 11 began on September 1, 1939, when Germany attacked Poland, Canada did not declare war until Sunday, September 10, after a special session of Parliament had been called. There had been a general mobilization order on September 1, but Canadian forces were badly prepared. The fulltime army had 4,000 officers and men, the non-permanent active militia ("Sunday soldiers") totalled 60,000; the R.C.A.F., 4,500; and the R.C.N., 1,800 men.
During the war years the strength of Canadian forces was increased many fold. In all, the army reached a peak strength of five divisions of nearly half a million men. The R.C.A.F. grew to nearly 250,000 men, including forty-eight fighter squadrons and a complete bomber group. The tiny navy of 1939 grew to 100,000 men operating more than 400 ships from cruisers to motor-torpedo boats. They played a vital part in keeping the lifeline to Britain open and winning the Battle of the Atlantic against the submarines.
In spite of its relatively small size in 1939, the 1st Canadian Division sailed from Halifax on December 10 in the liners Aquitania , Empress of Britain, Empress of Australia, Duchess of Bedford, and Monarch of Bermuda. They were escorted by R.C.N. destroyers part of the way, and the battleship Resolution all the way across the Atlantic. The skippers of the merchant ships did not like convoys (see October 3) and during a fog the Empress of Australia became "lost." Two days later, shortly after sunset, a British cruiser appeared on the horizon and made a lamp signal to the battleship "Luke 15: 6" which reads in part: "Rejoice with me; for I have found my sheep which was lost." The Empress rejoined the convoy the following morning!
When the Canadians reached the Clyde there was a great array of British sea power to welcome them. Winston Churchill, who was then First Lord of the Admiralty, broadcast the news of their safe arrival and said, "It has warmed the cockles of our hearts." The Division reached Aldershot on December 18, 1939. It was the beginning of a mighty effort by the army which was to include fighting in Sicily, France, Italy and Holland.
OTHER NOTABLE EVENTS ON THIS DAY IN CANADIAN HISTORY
18 December
-1963 Sieur de Monts was granted a monopoly of the fur trade for ten years. It was revoked later (see July 27) .
-1813 A British-Canadian force sacked Fort Niagara in the United States.
-1889 The C.P.R. telegraph joined the Atlantic cable at Canso, Nova Scotia.
-1897 An Order-in-Council changed the boundaries of Yukon, Franklin, and Ungava and established the Geographic Board of Canada.
-1901 The Territorial Grain Growers' Association was organized at Indian Head, Manitoba.