HISTORICAL EVENTS THAT TOOK PLACE ON THIS DAY IN CANADA
17 December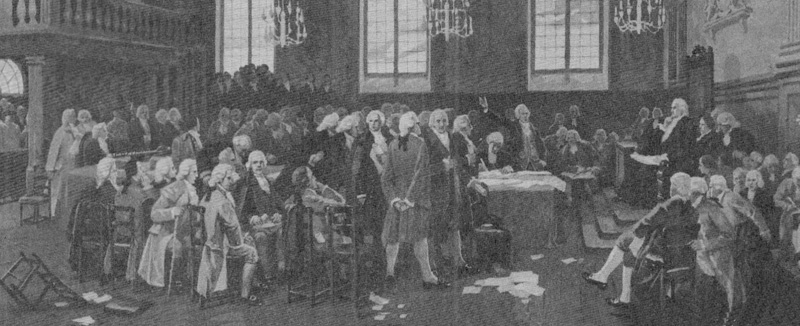 First Parliament of Lower Canada
First Legislature of Lower Canada Opens
In 1791 the British parliament passed the Constitutional Act which created two Canadas. One was Lower Canada, predominantly French, and the other was Upper Canada, almost wholly English. Each province had its own legislature, with upper and lower chambers, and the system of laws it preferred. The lieutenant-governor of each province chose the members of the upper house, but the assembly was elected by the people.
The people of Upper Canada were accustomed to elections, because many of them came from the former British colonies in the United States. The French in Lower Canada had never known an election, except in the parishes where the people elected the churchwardens. There was some excitement in Lower Canada's first election campaign leading to the opening of the legislature on Dec 17, 1792. Even the habitants could vote, because they were landholders. Most of them were illiterate, but they returned one of the strongest assemblies in the history of Lower Canada. There were 50 members to represent 100,000 people, and they included merchants, lawyers, and seigniors. Montreal with 18,000, and Quebec with 14,000, had 4 members each.
When the legislature opened, the first question was which language would be used, English or French. One of the French members said that since they lived under the best of kings, gratitude and courtesy required that they should speak in English. However, few of the members knew any English at all, so it was decided that both languages would be used. The opening prayer would be in French one day, and English the next. The members were assured that God would understand both languages!
OTHER NOTABLE EVENTS ON THIS DAY IN CANADIAN HISTORY
17 December
-1867 British Columbia's legislature met for the first time at Victoria.
-1893 The Canadian Bankers' Association was organized at Montreal.
-1924 The Legislature of British Columbia adopted a resolution opposing further immigration of Orientals to Canada.
-1939 The British Commonwealth Air Training Plan was signed in Ottawa by Canada, Britain, Australia and New Zealand.