HISTORICAL EVENTS THAT TOOK PLACE ON THIS DAY IN CANADA
2 December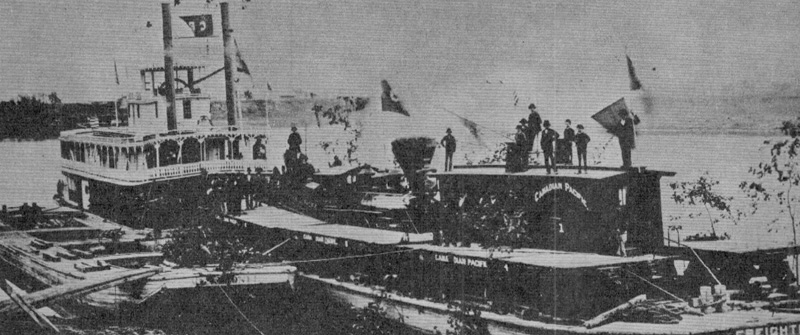 The S.S.Selkirk with its cargo, the Countess of Dufferin
Railway Completion Marks End of Riverboat Era
December 2, 1878, marked the end of a colourful era in the West. A railway was completed from Winnipeg to the American border, where it connected with the St. Paul and Pacific. The stern wheelers were no longer needed on the Red River, with their bowmen shouting the depth of the water as they went along: "Mark One", Mark Three", "Mark Twain." It was this last cry which Samuel Clemens, author of Torn Sawyer, took as his pen name.
Although the river boats (see April 15) had been carrying freight worth $10 million a year since 1870, they also carried the means of their own destruction. Beginning in 1875 every steamer sailing down the Red River to Winnipeg included in its cargo the rails and ties that would build the railway. Then in October, 1878, the S.S. Selkirk brought the locomotive Countess of Dufferin to Winnipeg, and the end was near (see September 27).
The opening of the railway line to the United States made a great difference to travelers from eastern Canada. Before the railways operated they had to find their way along the "Dawson route", which stretched for 450 miles from Dawson's (now Thunder Bay, Ontario) to Winnipeg. The trip involved seventeen changes from steamboats to wagons, and even to rowboats.
Pressure was already on for land in the West during these years. Crop failures in Europe had created a demand for North American wheat, and it rose in price to $1.25 a bushel for No. I Hard. People suddenly began to realize that one acre would produce about 40 bushels of wheat; so, in theory, it was possible to earn $8,000 from 160 acres, or $32,000 from 640 acres. Wheat farming would pay better than gold fields!
Unfortunately they forgot to take into consideration such natural hazards as grasshoppers and drought. What works out on paper does not always work out in practice, and this was especially true of farming.
OTHER NOTABLE EVENTS ON THIS DAY IN CANADIAN HISTORY
2 December
-1853 Governor Douglas established the Supreme Court of Vancouver Island.
-1960 A nationwide rail strike was averted by an Act of Parliament.