HISTORICAL EVENTS THAT TOOK PLACE ON THIS DAY IN CANADA
26 November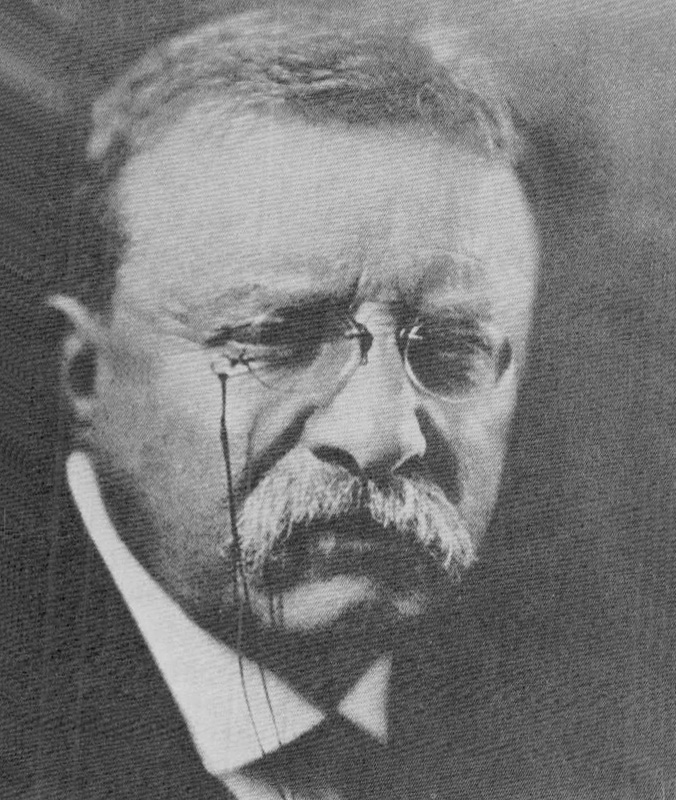 Theodore Roosevelt (1858-1919)
Hamilton Greets "Teddy"
"Terrible Teddy" Roosevelt was the United States president who strong-armed Britain into voting against Canada on the Alaska boundary question (see March 25). His daughter Alice once said: "He has to be the bridegroom at every wedding and the corpse at every funeral!"
After depriving Canada of a seaport to the Yukon, it might be thought that Teddy Roosevelt would never dare cross the border, but "time heals all wounds." On November 26, 1917, he not only came to Canada but received a welcome usually reserved for royalty.
It was during the critical days of World War I, that Victory Bond rallies to raise money for the war effort were being organized everywhere, and the former American president had been invited to take part in one at Hamilton, Ontario. The slogan was "stand behind the men behind the guns."
Roosevelt was a glamorous figure, apart from having been a President of the United States. He had been colonel of the famous Rough Riders whom he led, dismounted, to the capture of San Juan Hill in Cuba. He always preserved an air of clash and vigor, and blew into Hamilton like an autumn hurricane. The city was never more decorated. Every downtown building displayed the Union Jack and Stars and Stripes entwined. Thousands of people jammed the streets as Roosevelt was driven from the railway station to the hotel, while guns boomed such a salute that many windows were broken from the concussion.
The big issue of the day was compulsory military service, and Roosevelt did not hesitate to express his opinion. In the fund-raising rally at the Lyric Theatre he said that. people who would not back the war effort should lose the right to vote. As for conscientious objectors, he had Quaker friends who were lifelong objectors to fighting, but they did their best to help the war effort in other ways. All he could say to those who suddenly found themselves conscientious objectors overnight was "If a man's conscience makes him act like a fool, let him take it out and see what's wrong with it." Roosevelt aroused such enthusiasm that the people in the audience pledged themselves to buy $100,000 in Victory "Bonds.
OTHER NOTABLE EVENTS ON THIS DAY IN CANADIAN HISTORY
26 November
-1843 The Lafontaine-Baldwin government resigned in a dispute with Governor Metcalfe (see March 29).
-1857 The Macdonald-Cartier government was in power until July, 1858.
-1892 The Canadian Privy Council denied the right of Roman Catholics in Manitoba to appeal to the Governor-General in the separate schools question.
-1926 Vincent Massey was made the first Canadian minister to the United States.