HISTORICAL EVENTS THAT TOOK PLACE ON THIS DAY IN CANADA
18 November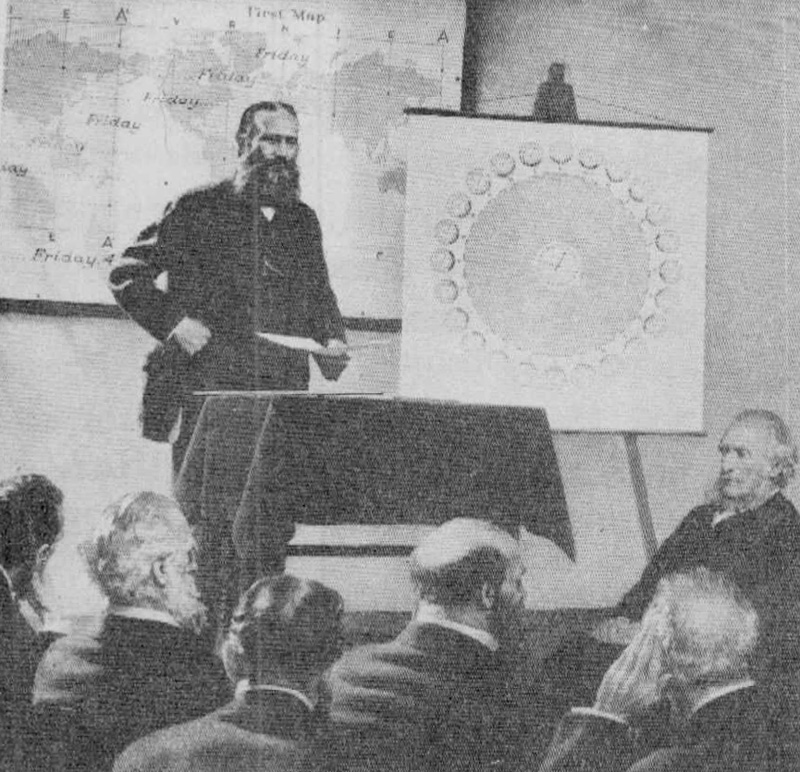 The birth of Standard Time
Standard Time Adopted by Canada
One of the most remarkable men in Canadian history was Sir Sandford Fleming. His name has already been mentioned in connection with the good-will tour of the Maritimes which took place in 1864, before the Charlottetown meeting paved the way for Confederation (see August 2).
Sandford Fleming left Scotland for Canada as a young man and first came into the limelight by rushing into the burning Parliament Building in Montreal in 1849, and rescuing a portrait of Queen Victoria. The building had been set on fire by a mob protesting against the signing of the Rebellion Losses Bill (see April 25). He was in the news again two years later, when he designed the first Canadian stamp, the famous three-penny "Beaver" issued on April 23, 1851.
Fleming studied engineering and surveying in Toronto and became chief engineer of the Ontario, Simcoe and Huron Railway in 1857. Then the Government engaged him to survey the route of the Inter-colonial Railway from Rivière du Loup to Quebec. This was a very important assignment because the agreement of the Maritimes to Confederation could only be won by a promise to build this railway. Sandford Fleming was chief engineer during its construction.
When British Columbia came into Confederation in 1871, one of the conditions was that a railway to the Pacific coast should be constructed. Once again, the task of finding the best route was entrusted to Fleming. Finding a way through the Rockies was the most difficult problem, and with 800 men working under him, Fleming surveyed Yellowhead Pass, now used by the C.N.R., and also Kicking Horse, Eagle, and Rogers Passes used by the C.P.R.
While all this was going on Fleming became an expert on time. Canadians are accustomed to hearing radio and television programs advertised in terms of "standard time." Canada is divided into seven time zones, beginning with Newfoundland Standard Time in the east. This is half an hour ahead of Atlantic Standard, and then the other zones are one hour apart: Eastern, Central, Mountain, Pacific and Yukon.
Standard time was the invention of Sandford Fleming and was adopted by Canada on November 18, 1883. The rest of the world adopted his system in 1884 at an international conference in Washington.
OTHER NOTABLE EVENTS ON THIS DAY IN CANADIAN HISTORY
18 November
-1678 La Salle sent a party which included La Motte and Father Hennepin to Niagara.
-1791 The Constitutional Act, which divided Canada into Upper and Lower Canada, was proclaimed. It was to come into effect on December 26.
-1929 A tidal wave struck south-west Newfoundland, killed twenty-seven people, and caused $1 million damage.
-1936 The Toronto Globe bought the Mail and Empire and formed the present Globe and Mail.