HISTORICAL EVENTS THAT TOOK PLACE ON THIS DAY IN CANADA
17 October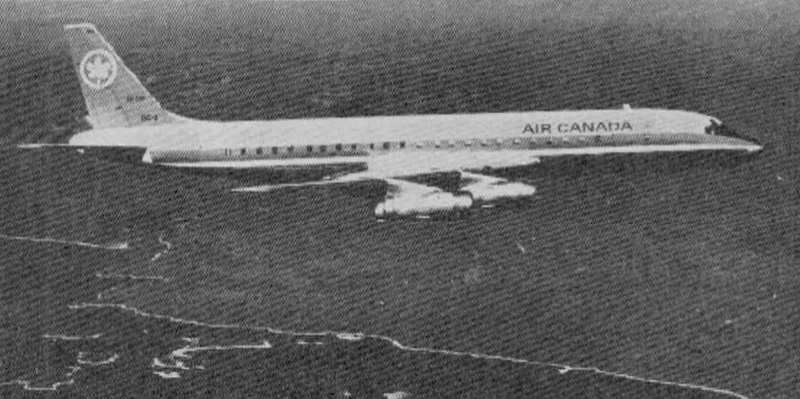 The Douglas DC-8
T.C.A. Organized
Occasionally a politician emerges who likes to get things done and is prepared LO bulldoze his measures through the House of Commons, if necessary. The Right Honourable C. D. Howe, Member of Parliament for Port Arthur, Ontario, was such a man.
One of Howe's greatest achievements was the creation of Air Canada, originally called Trans-Canada Airlines. Parliament passed the act establishing it in April, 1937. When the airline was organized it was designed to serve major communities spread across more than 4,000 miles of mountain, forest, and prairie. Today it operates over 40,000 miles, serving the States, the Caribbean, Britain, and continental Europe. The more appropriate name Air Canada was adopted in 1964.
Trans-Canada Airlines inaugurated its first commercial flight on September 1, 1937, between Vancouver and Seattle. It had only two 10-passenger Lockheed aircraft and a Stearman bi-plane, acquired when it bought out Canadian Airways Company on the Pacific Coast.
Airports and navigational aids were more advanced in Western Canada; so headquarters were established at Winnipeg. By October 17, 1938, after extensive training of pilots and ground crews, T.C.A. was ready to carry mail and freight between Montreal and Vancouver. Passenger service was inaugurated on April 1, 1939. The journey from Montreal to Vancouver took eighteen hours. Now it is made in six hours by DC-8 jetliners.
The original pilots still with the company include George Lothian, Herbert Seagrim, J. L. Booth, W. E. Barnes, J. A. Jones, L. K. Lewis, J. A. Wright and M. B. Barclay. They used to employ a number of tricks to .gain enough altitude to fly over the Rockies. Pilots flying from Lethbridge to Vancouver would turn east rather than west to catch the air current which flowed over the mountains and hit the ground. The pilots would ride the rising air to gain altitude! Passengers had to wear oxygen masks when flying over the mountains and occasionally on other routes when it became necessary to fly at an altitude of more than 10,000 feet to escape bad weather.
Since 1937 Air Canada has grown from 72 employees and three aircraft to an international carrier employing 12,000 men and women, with a fleet of seventy-eight turbine aircraft. It is now one of the world's largest commercial airlines, and has assets worth nearly $300 million.
OTHER NOTABLE EVENTS ON THIS DAY IN CANADIAN HISTORY
17 October
-1760 Sappers under "Foul-weather Jack" Byron, grandfather of the poet, destroyed fortifications at Louisburg, Nova Scotia. The work took two years.
-1777 The Americans defeated the British under General Burgoyne at Saratoga.
-1794 Captain George Vancouver sailed from Nootka Sound after his third voyage.
-1877 Chief Sitting Bull refused to return to the United States (see May 6).
-1878 Sir John A. Macdonald became Prime Minister again and remained in office until his death in 1891.
-1910 The first cruiser of the Royal Canadian Navy, H.M.S. Niobe, arrived at Halifax.
-1963 Old Age Pensions were increased to $75 a month.
-1971 Premier Alexei Kosygin of Russia arrived in Canada for a nine-day state visit.