HISTORICAL EVENTS THAT TOOK PLACE ON THIS DAY IN CANADA
29 September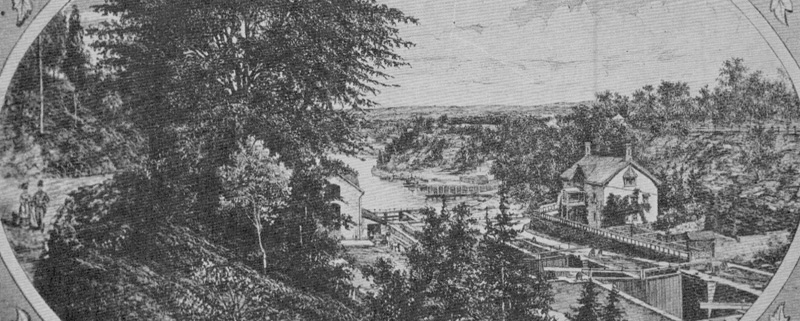 View of Rideau Canal Locks, 1879
Ceremonies Open for Building of Rideau Canal
The Rideau Canal between the Ottawa River and Lake Ontario is now used only by pleasure boats. The lift from the Ottawa River to the canal is through a series of picturesque locks between the Parliament Buildings and the Chateau Laurier Hotel. The first stone of one of the locks was laid by Sir John Franklin, the famous explorer.
The project that eventually led to the building of the Rideau Canal began on September 29, 1783, immediately following the end of the American Revolutionary War. British military leaders wanted a route from the St. Lawrence to Lake Ontario that would not be exposed to the American border. Lieutenants Jones and French were assigned to survey what was then wild territory and reported that a canal was feasible by using the Rideau River and a chain of lakes.
Nothing was done until after the War of 181 when the building of the canal again became an issue. In 1824, Upper Canada became impatient with the delay and had another survey made by Samuel Clewes. The British Government offered to lend Upper Canada £70,000 to build the canal, but Upper Canada would not go through with it. In 1826, the British Government sent John By to build the canal. He built the eight locks up the steep cliff from the Ottawa River and reserved the land on either side for military purposes.
By coincidence, the opening ceremonies for the building of the canal in 1827 were on the same date that Jones and French began their survey, September 29. People came from near and far, on foot, in canoes and by ox-teams. It was an Indian summer; the forests were rich in colour, with scarlet maples and golden birches. During the opening ceremony, in which Governor Dalhousie turned the first sod, frogs in nearby marshes provided their "musical" accompaniment. The first steamer, Rideau, made the journey from Kingston to Bytown in 1832. The route was busy until nearly 1900 when railways made it unnecessary.
OTHER NOTABLE EVENTS ON THIS DAY IN CANADIAN HISTORY
29 September
-1788 The first ship built on the Pacific coast, the North West America, was completed by Captain Meares at Nootka, Vancouver Island.
-1962 Canada's spacecraft Alouette was launched at Vendenburg Base, Calif.