HISTORICAL EVENTS THAT TOOK PLACE ON THIS DAY IN CANADA
3 September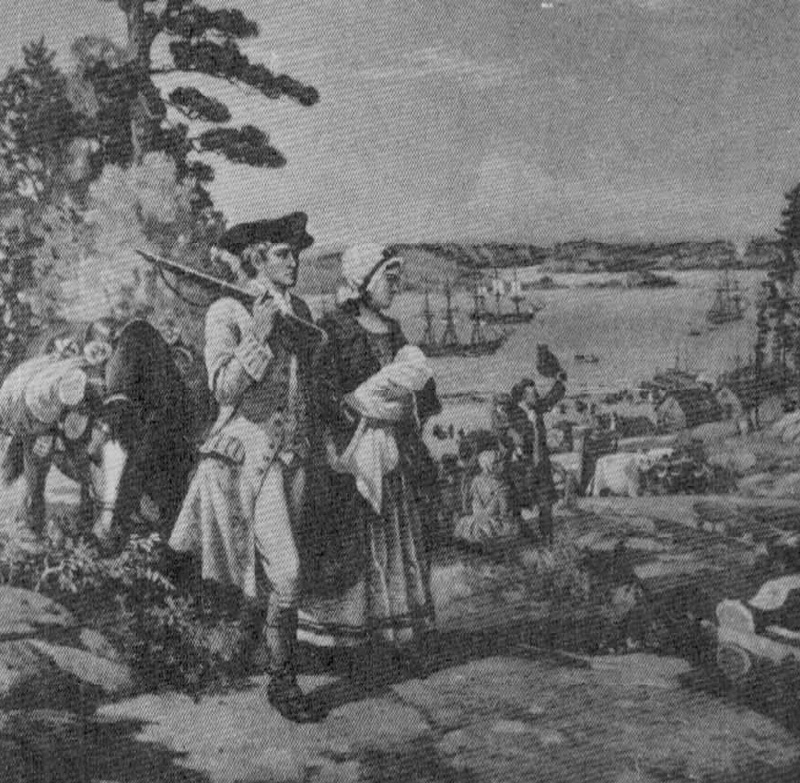 Loyalists landing at St. John, N.B.
Treaty Ends War
There are two Treaties of Paris in Canadian history—the treaty of 1763 by which France ceded Canada to Britain and the treaty of 1783 which ended the American Revolutionary War. The second treaty is also known as the Peace of Versailles, but as a treaty of that name ended World War I, it certainly does not clear up the confusion!
The treaty of 1783 was signed on September 3. When the time came for the final negotiations, Britain was in a strong position (see May 8) and determined to retain Canada. By the treaty, Britain held the Maritimes, the part of old Canada south of the St. Lawrence, the region north of the St. Lawrence above Montreal, and the Great Lakes. It was surprising that Benjamin Franklin, chief negotiator for the States, did not claim the northwest territory of the Hudson's Bay Company. He may have felt that it was worthless, but his oversight paved the way for Canada's expansion to the Pacific.
One of the tragedies of the treaty, from Canada's point of view, was Britain's failure to obtain better terms for the United Empire Loyalists. Many Americans felt bitterly about the Loyalists. Governor Clinton of New York said that he would rather roast in hell than show mercy to Loyalists after they had destroyed some property while under British protection in New York City. The only concession Britain gained for the Loyalists was a promise by Benjamin Franklin that he would ask the various States to liberal to them. It was a worthless promise.
Franklin was a wily trader. When he was trying to persuade Britain to cede Canada to the States, he said he still loved "dear old England." Now that they were going separate ways, they should trade together in peace and harmony. In order not to risk a future conflict it would be better if the Maritimes and Canada were part of American territory! He nearly got away with it!
OTHER NOTABLE EVENTS ON THIS DAY IN CANADIAN HISTORY
3 September
-1814 The American vessel Scorpion was captured at Nottawasaga.
-1825 The Halifax Banking Company opened for business.
-1841 The Canadian Parliament passed resolutions for responsible government.
-1864 Canadian delegate Galt discussed financial plans at the Charlottetown Conference on Confederation.
-1894 Labour Day was celebrated for the first time in Canada.
-1957 Prime Minister Diefenbaker welcomed 1,500 scientists at Toronto for the meeting of the International Union of Geodesy and Geophysics.
-1962 The Trans-Canada Highway was officially opened.