HISTORICAL EVENTS THAT TOOK PLACE ON THIS DAY IN CANADA
17 August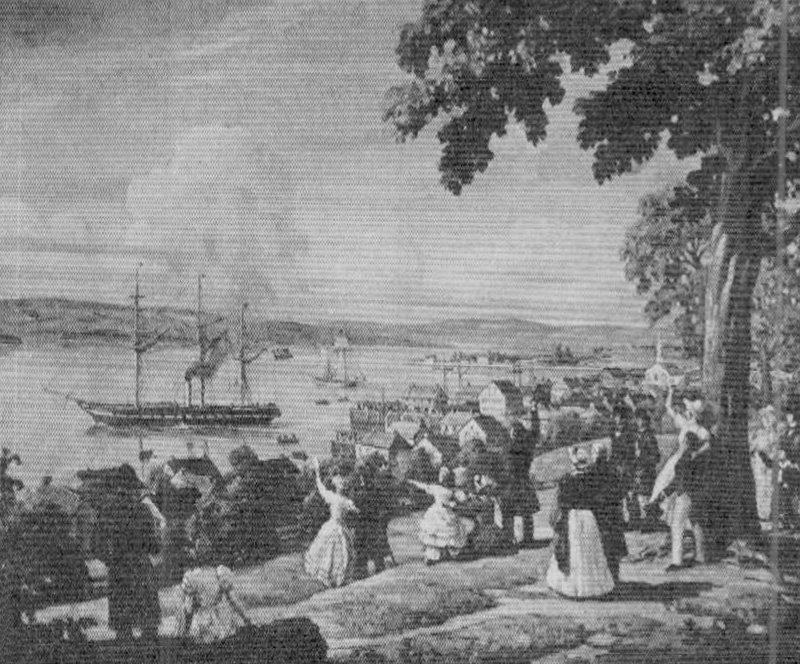 The Royal William leaving Pictou
Steamer Crosses Ocean
On August 17, 1833, the Royal William sailed from Pictou, Nova Scotia, to London, England. This may have been the first time any ship had crossed the Atlantic entirely under steam power.
That distinction is disputed by the United States and Holland. The Americans claim that the Savannah was the first steamship to cross the Atlantic. The Savannah, however, also used sails. There is more reason to believe that the honor should go to the Dutch ship Curaçao, which is believed to have crossed the Atlantic under steam power in 1827, on a voyage from Antwerp to Dutch Guiana. If the Dutchmen were first, then our Royal William was second, taking a more difficult course across the North Atlantic.
Royal William was built at Quebec in 1830 with the aid of a government subsidy. Its purpose was to provide a regular service between Quebec and Halifax. The engines were installed in Montreal and sails were added in case of a breakdown. She was described as "a smoke-belching, paddle-wheeling, clanking steam kettle." The label probably came from a die-hard who believed in sails alone!
The Quebec-Halifax run did not prove to be profitable. Royal William also tried picking up trade to and from Boston, and was the first British steamship to enter an American port. That run did not work out well either, so finally the ship was sold to interests in England. She left Pictou on August 17, 1833, after picking up a load of coal for fuel. The trip to London took 25 days. Eventually Royal William was converted into a warship and sold to Spain.
Although Royal William's career in Canada was not successful, her advent on the St. Lawrence marked an era of progress, especially for Montreal. Until that time, Quebec had been the important city. In 1830, Montreal took steps to move into the lead. A harbour commission was formed to improve the docks and to put navigation aids along the river.
OTHER NOTABLE EVENTS ON THIS DAY IN CANADIAN HISTORY
17 August
-1760 Two French barques, Actaquaise and Iroquois, were captured by five British rowing galleys at Point au Baril, near Brockville, Ontario. They were the last French ships on the Great Lakes.
-1889 The Canadian College of Music opened in Ottawa.
-1903 The congress of the Chambers of Commerce of the British Empire opened in Montreal.
-1913 The Ontario Department of Instruction ruled that French was not to be used in schools beyond Grade 1.
-1923 The Federal Pension Appeal Board was appointed.
-1940 Prime Minister Mackenzie King and President Roosevelt held a conference at Ogdensburg, New York.
-1954 Prince Philip attended the British Empire Games at Vancouver.
-1965 Four treasure hunters were killed at Oak Island, Nova Scotia, where Captain Kidd's treasure is supposed to be buried.