HISTORICAL EVENTS THAT TOOK PLACE ON THIS DAY IN CANADA
21 July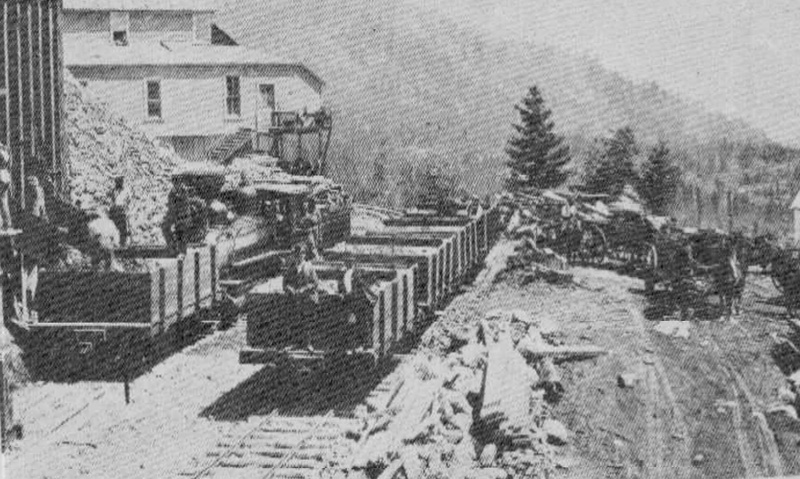 First train of ore from Le Roi Mine, B.C.
Mine Sold for $12.50
How would you like to buy a gold mine for $12.50? That is what Eugene Sayre Topping, writer, sailor and miner, paid for "Le Roi" on July 21, 1890. It turned out to be one of the richest mines in the world!
Topping also happened to be deputy recorder of deeds at Nelson, British Columbia. One day he was approached by two prospectors, Joe Bourgeois and Joe Moris. Bourgeois and Moris had staked four claims on Red Mountain, with protecting posts on a fifth, which they called "Le Wise." The reports on the samples they brought to Nelson were disappointing and they did not feel like paying the recording fee of $2.50 for each of their five claims. So they agreed with Topping that he could have "Le Wise" if he would pay the $12.50 for all five claims.
Topping agreed, registered the claims, and went to see his property. He liked it, and changed the name to "Le Roi." Then he left by train for Spokane, Washington, where he hoped to be able to raise enough money to work his property. He found the money before he arrived at Spokane, because on the train he met Colonel R. W. Redpath, a financier, and George Forester, a lawyer, who after seeing samples, guaranteed to spend $3,000 on development before June, 1891. For this they were to receive shares in the company.
"Le Roi" was a success from the start. It paid $725,000 in dividends in eight years. British Columbia found itself in another mining boom. There was more than gold. In 1891, silver, zinc and lead were discovered in the Slocan area. A mine called "Slocan Star" paid out $300,000 in five years, and "Payne", contrary to the sound of its name, paid out nearly $1.5 million in seven years. Gold and copper deposits were discovered along the British Columbia-United States border. The most famous mine was Granby, which in 1908 shipped out more than 23 million pounds of copper. Coal was found in First train of ore from Le Roi Mine, B.C.
Crow's Nest Pass, and the great smelter was built at Trail. The sparkplug of this terrific boom was one investment of $12.50!
OTHER NOTABLE EVENTS ON THIS DAY IN CANADIAN HISTORY
21 July
-1667 France regained Acadia through the Treaty of Breda.
-1730 The population was estimated as 33,682.
-1759 Colonel Guy Carleton led an expedition 21 miles up the St. Lawrence during Wolfe's attack on Quebec.
-1836 The Champlain and St. Lawrence Railway opened, connecting Laprairie on the St. Lawrence with St. John's, Quebec, on the Richelieu River. The railway was horse-drawn for the first year and was the only passenger railway in Canada until 1847.
-1899 A new suspension bridge over the Niagara River between Queenston and Lewiston was opened.
-1932 An Imperial Conference opened at Ottawa; R. B. Bennett was then prime minister.
-1936 Mount Waddington in British Columbia, 13,200 feet, was climbed for the first time.
-1961 Prime Minister Diefenbaker opened the government-built town of Inuvick in the Arctic.