HISTORICAL EVENTS THAT TOOK PLACE ON THIS DAY IN CANADA
17 July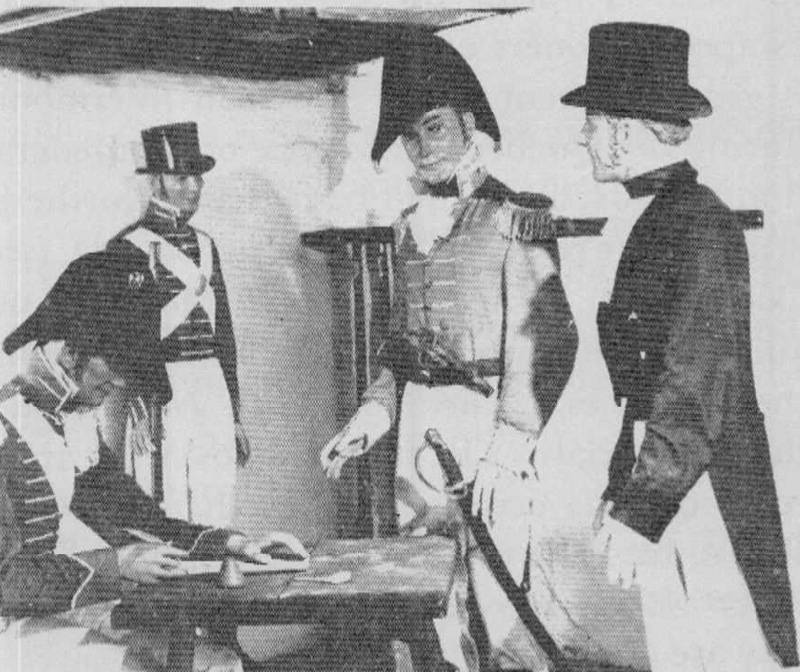 Dummy Models Depict American Surrender in North Blockhouse of Fort Mackinac
Americans Lose Fort Mackinac to the British
On July 17, 1812, a small British force from St. Joseph's Island captured Fort Mackinac (Michilimackinac) from the Americans. Strangely enough the British had also captured it on the same date in 1777, during the American Revolutionary War.
The capture of Fort Mackinac in 1812 was a colourful affair. The British had only 45 regular soldiers on St. Joseph's Island, but they recruited 180 Canadians and 400 Indians and traveled to Fort Mackinac in canoes! It was a journey of 50 miles, but they made it in good time and managed to get a cannon up the island's cliffs without being detected. The 60 American "blue coats" in the garrison surrendered immediately, giving up seven cannons and valuable supplies. This action and the subsequent massacre at Fort Dearborn (Chicago) were responsible for General Hull's retreat to Detroit after his invasion of Canada on July 12.
Two great figures in Canadian history then came on the scene. They were General Isaac Brock, and Indian Chief Tecumseh. George M. Wrong, in his book The Canadians, says that Brock ranks in fame next only to Wolfe. Some of his exploits will be recounted in future stories. Tecumseh was an American Shawnee chief and had an almost equally famous brother known as "the Prophet." They had a plan to combine all the Indians from Canada to Florida to resist encroachment on their hunting grounds. Tecumseh and "the Prophet" tried to do this peacefully by making a deal with the United States that no purchases of land would be made without the consent of the Indian tribes affected. The Americans would not agree to this and General Harrison defeated "the Prophet" in the Battle of Tippecanoe in 1811.
Now Tecumseh wanted revenge but waited until war broke out between Britain and the United States. Tecumseh, who was commissioned a brigadier-general in the British army, was the symbol of all the Indians' hopes of recovering their lands. When he joined the British on the Canadian side of the Detroit River, hundreds of Indians followed him. They played a vital and colourful part in the capture of Fort Meigs, and in all the skirmishes around the Detroit area.
OTHER NOTABLE EVENTS ON THIS DAY IN CANADIAN HISTORY
17 July
-1673 The Dutch attacked Ferryland, Newfoundland.
The second census of Canada showed the population as 6,705. It grew to 17,125 by 1706.
-1777 Fort Mackinac surrendered to the British.
-1817 The first sod for the Lachine Canal was turned.
-1874 Lord Carnarvon offered to mediate the dispute between the Federal Government and British Columbia.
-1909 The juvenile Delinquent Act came into force.
-1959 An Emergency Measures Organization was formed to deal with atomic attack.