HISTORICAL EVENTS THAT TOOK PLACE ON THIS DAY IN CANADA
23 May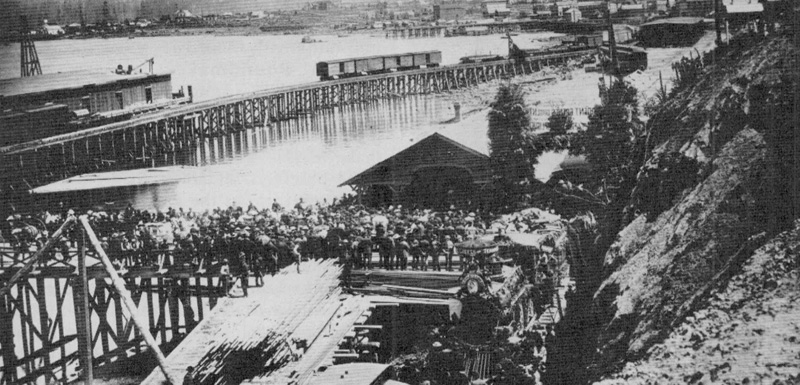 "374" arrives in Vancouver
Citizens Welcome First Train to Vancouver
The short route to China, which explorers from Cabot onwards had hoped to find, really came into being on May 23, 1887 when the first C.P.R. transcontinental passenger train arrived at the new west coastal terminal, the city of Vancouver. It was drawn by engine 374, now displayed in Kitsilano Park, Vancouver, and clambered through every day by children.
Vancouver had only been incorporated as a city the previous April, and was completely destroyed by fire in June. Yet, when 374 puffed in on May 23, it had been rebuilt and was a vivid sight with fir arches, garlands and slogans. There were many rounds of "three cheers and a tiger" for the C.P.R.
Port Moody, farther up Burrard Inlet, was supposed to be the Canadian Pacific terminal and still is officially, but William Van Horne moved the end of the line to Vancouver, to allow deeper berthing water for a shipping service. The C.P.R. had already made its plans for steamship routes across the Pacific. The Abyssinia of 3,000 tons had sailed from Yokohama and arrived at Vancouver on June 14, with first class passengers and a cargo of tea. She had crossed the Pacific in thirteen days. Her passengers reached Montreal twenty-seven days after leaving Japan. Things were speeding up in the world! The Abyssinia also carried the first transpacific mail and the pioneer cargo of silk. For many years, the fast "silk trains" were something to behold, as they roared across the continent with their precious cargo, some to Prescott, Ontario, from whence they were ferried to Ogdensburg, N.Y.
Vancouver grew quickly with the arrival of the railway. By the end of the year its population was 5,000 with new settlers arriving every day. Two years later it had grown to 8,000, and eventually it became the third largest city in Canada.
OTHER NOTABLE EVENTS ON THIS DAY IN CANADIAN HISTORY
23 May
-1633 Champlain was made the first governor of New France.
-1873 Parliament passed an act establishing the Northwest Mounted Police.