HISTORICAL EVENTS THAT TOOK PLACE ON THIS DAY IN CANADA
19 May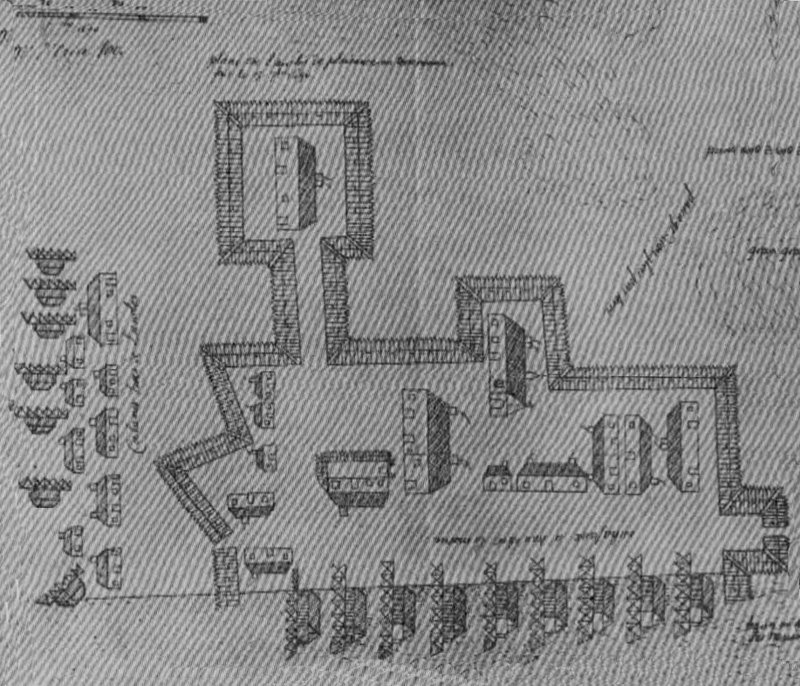 French fort at Placentia, 1690
Iberville Ordered to Hudson Bay
On May 19, 1697, Pierre Le Moyne d'Iberville was resting at Placentia Harbour, Newfoundland. Iberville and his men had marched across the Avalon Peninsula the preceding November, through swamps and icy waters to rendezvous with another French force under Governor Brouillon, who was jealous of Iberville. In fact, after they met at Ferryland, Brouillon and Iberville drew swords because the French Governor went back on an agreement he had made about division of the spoils. The fight was prevented but Iberville lost the argument and had to give Brouillon a bigger share.
They besieged St. John's on November 26 but it was bravely defended by Governor Miners who tried to hang on because he knew reinforcements were coming from Britain. Iberville knew it too and devised a trick (or what would be called a propaganda move today) to make Miners give in. He captured a settler, William Drew, and had the Indians cut all around his scalp and then strip the skin from the forehead to the crown. He then sent Drew into St. John's with a message to Miners saying that unless St. John's was surrendered immediately, all its inhabitants would get the same treatment. Miners gave in.
There was a good deal more fighting and devastation elsewhere, but by May 19 Iberville had returned to Placentia. Now he planned to rest his troops, capture the remainder of Newfoundland and then organize a campaign to drive the English from the New England states. He was going to capture Boston and perhaps even New York!
Iberville's hopes and plans were dashed on May 19, when five ships of war sailed into Placentia Harbour. His brother Joseph de Sérigny was on board one of them, bringing a message from King Louis XIV. Iberville was to give up the Newfoundland campaign and once again drive the English from Hudson Bay (see September 3). The tragedy from his point of view was that the Newfoundland campaign had been a waste and the plan to capture Boston would never be carried out.
OTHER NOTABLE EVENTS ON THIS DAY IN CANADIAN HISTORY
19 May
-1535 Cartier sailed on his second voyage to Canada.
-1587 John Davis began his third voyage to the Arctic.
-1745 British and French fleets fought a battle off Louisburg.
-1780 This was known as the "dark day" in Canada and New England States because darkness fell at 2 p.m. The cause has never been made known.
-1790 Various Indian tribes surrendered 2 million acres in Ontario.
-1859 The first steamboat on the Red River arrived at Fort Garry.
-1876 The British Columbia Legislature passed a Schools Act supporting public schools, and taxing male residents $3 a year for education.