HISTORICAL EVENTS THAT TOOK PLACE ON THIS DAY IN CANADA
24 April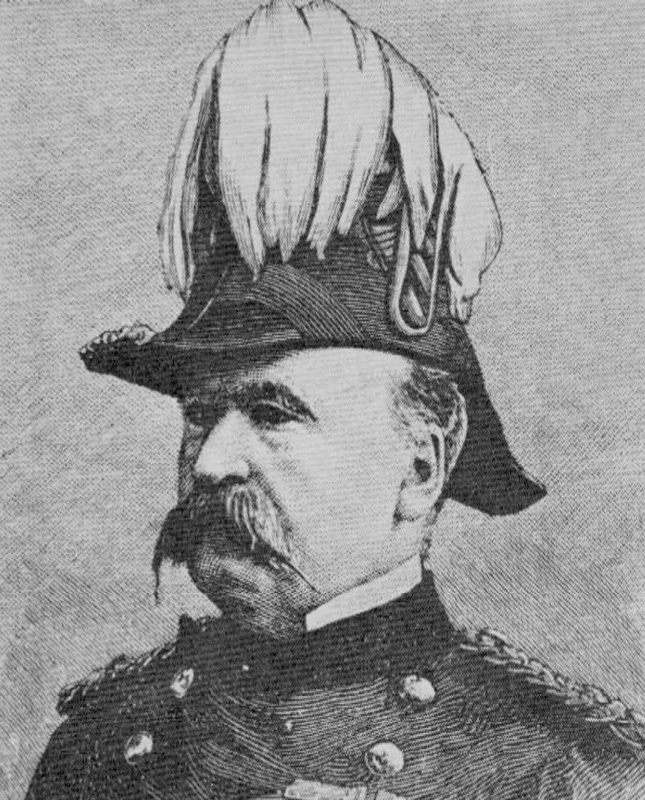 General Middleton (1825-1898)
Battleford Relieved
April 24, 1885, marked the turn of the tide in the Northwest Rebellion. Ottawa had been moved to act by the news of Duck Lake (see March 18) and rushed a force of 3,000 men from the east under British General Middleton. Middleton also had 2,000 men from the west and 500 Northwest Mounted Police.
One of his first decisions was to order Colonel Herchmer to take fifty Mounted Police to Battleford and try to rescue the besieged inhabitants. Herchmer acted contrary to the spirit of Tennyson's Charge of the Light Brigade, "Theirs not to reason why. Theirs but to do and die." He did something unheard of in the annals of the famous force, and refused to go! The order meant a march of 200 miles from Regina to Battleford, when only half his men had horses. They would have to ford the South Saskatchewan River in spring flood and would be easy targets for Poundmaker's Indians.
Middleton then revised his plan and divided the force that was destined for Edmonton. Half of it was ordered to take the train to Swift Current and go to Battleford. Colonel Otter was in command and was joined by the fifty police Herchmer had refused to squander.
When they reached the South Saskatchewan River, they waited for the paddle-wheeler Northcote to bring supplies from Medicine Hat, a trip that took a week. Since in some places, the water was only 20 inches deep and the Northcote drew 26 inches, the ship had to become amphibious to get over the shoals. General Middleton later wrote: "The long expected steamer arrived after a tedious voyage most of which seems to have been made on land. All the steamers are stern-wheelers and have four strong spars fastened, two on each side of the bow, by a sort of hinge. These spars are lowered when the vessel runs on a shoal or sandbar, and the vessel is forced over: made to walk, as it were."
On April 24, Middleton's own force was almost ambushed by Dumont and 130 Métis at Fish Creek. A more important development on April 24 was that Otter and Herchmer reached Battleford. It was like the relief of Lucknow to the people who had been besieged there for nearly a month. It must have been a thrilling event to hear the music of a military band approaching from the distance.
OTHER NOTABLE EVENTS ON THIS DAY IN CANADIAN HISTORY
24 April
-1626 Champlain sailed from Dieppe on his eleventh voyage to Canada.
-1851 Prince Edward Island obtained responsible government with George Coles as Premier.
-1896 Lord Strathcona (formerly Donald A. Smith) was appointed Canadian High Commissioner to Britain.
-1951 Princess Patricia Canadian Light Infantry was sent into action in Korea. 1959 The first shipment. of oil from Alberta by pipeline and freighter arrived at Sarnia, Ontario.