HISTORICAL EVENTS THAT TOOK PLACE ON THIS DAY IN CANADA
15 April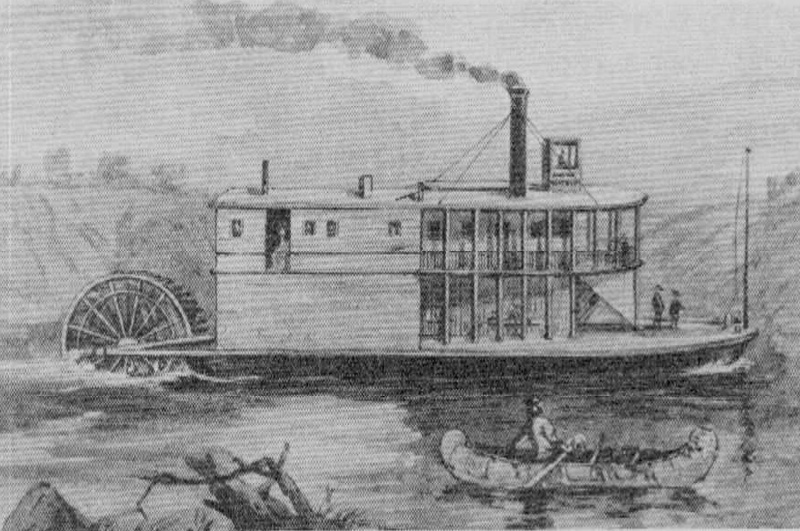 The Anson Northrup, 1859
First Steamboat Appears on the Red River
One of the most colourful stories in Canadian history tells of the days when steamboats began operating on the Red River, carrying freight and passengers between Fort Garry (Winnipeg) and St. Paul, Minnesota.
As explained on April 12, the building of a railway to St. Paul created tremendous traffic to Fort Garry. The next step of encroaching civilization was taken on April 15, 1859, when Captain Anson Northrup brought his ship North Star to the Red River. St. Paul merchants figured that if steamboats could operate on the Mississippi, they could also navigate the Red River to Fort Garry. Captain Northrup had the North Star on Crow Wing River, but offered to transfer it to the Red for $2,000. In order to do this, he had to dismantle North Star and have its parts freighted across country in winter in sleighs drawn by oxen. All the parts were there on April 15 and a few weeks later the ship was ready for its first run to Fort Garry. Its name had been changed to Anson Northrup.
There was a certain amount of fear as the old paddle-wheeler thrashed her way down the river, deck barely above water, funnel pouring out smoke and sparks, and boiler leaking clouds of steam. Amongst the cargo were 100 kegs of gunpowder, with sparks falling all around!
The first trip took eight days. The Indians along the banks of the Red River were terrified when the Anson Northrup came into view and especially when she blew her whistle. On the other hand, the new settlers came rushing from their homes cheering, weeping, praying and even firing guns! The ship would stop at frequent intervals so that the crew could go ashore and cut wood for fuel.
The Anson Northrup arrived at Fort Garry in June, the first steamer of any size to do so. It was a great event for the rapidly growing community. Cannons were fired in salute and church bells rang.
Other steamers followed the Anson Northrup and there was great rivalry among them until 1877, when one of the ships brought a railway locomotive to Winnipeg. That was the end of the steamers on the Red River (see December 2).
OTHER NOTABLE EVENTS ON THIS DAY IN CANADIAN HISTORY
15 April
-1672 A royal edict prohibited fur traders from going to Indian villages. The Indians had to bring their furs to the settlements.
-1720 Three ships left France with three hundred settlers for the Island of St. John (Prince Edward Island).
-1814 The warships Prince Regent and Princess Charlotte were launched at Kingston, Ontario.
-1861 Joseph Howe introduced a resolution proposing union of the North American provinces.
-1907 Coal miners went on strike until May 6 in Alberta and eastern British Columbia.
-1928 A Canadian airplane discovered the German airship Bremen that had been forced down on Greenly Island, Strait of Belle Isle.
-1958 The Queen Elizabeth Hotel opened in Montreal.