HISTORICAL EVENTS THAT TOOK PLACE ON THIS DAY IN CANADA
16 MARCH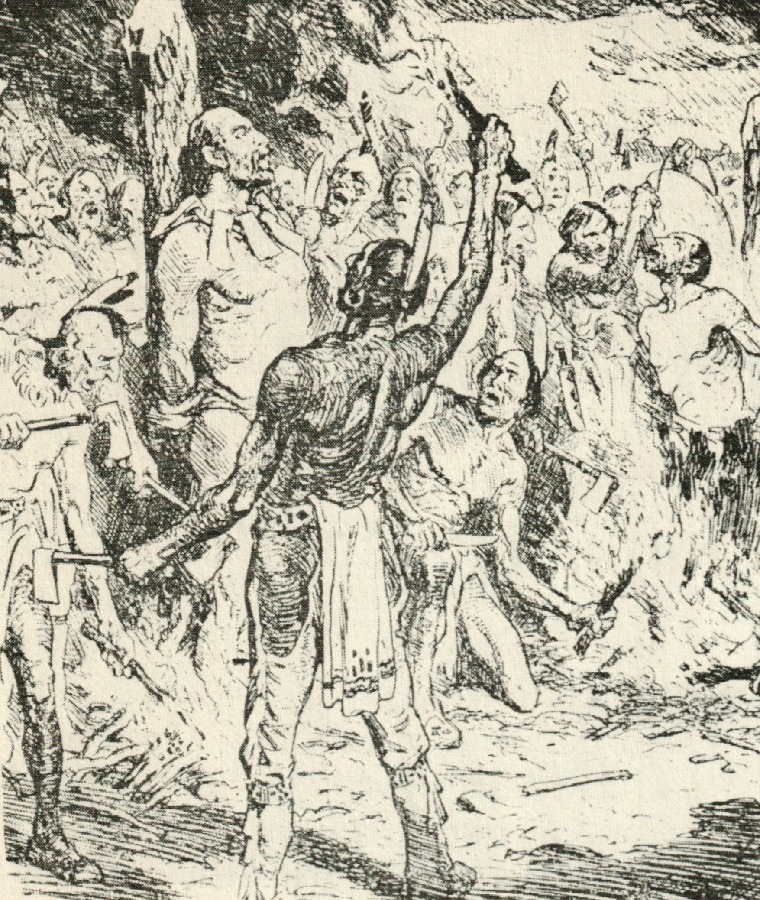 Martyrdom of Brébeuf and Lalement, 1649
Indians Murder Priests
In Canada, not a cape was turned, nor a mission found, nor a river entered, nor a settlement begun, but a Jesuit led the way.
-George Bancroft, 1834
In 1930, the Roman Catholic Church canonized a number of Jesuit missionaries who had been massacred in Canada. Among them were Fathers Brébeuf and Lalemant who were murdered at the mission of St. Louis on March 16, 1649.
The Iroquois had resolved to wipe out the Hurons. They left northern New York during the winter on a hunting expedition. Gradually they worked their way into Huronia, destroyed the village of St. Ignace and rushed to the mission at St. Louis. They stripped the priests and made them march between a double row of warriors who clubbed their naked bodies. Then, a leisurely torture began.
Father Brébeuf's turn came at one in the afternoon. For three hours he stood silently in prayer, except when he tried to encourage the other prisoners. He endured the worst tortures the Iroquois could inflict, until he died from a blow on the head.
Father Lalemant was a much younger man, and frail. He was forced to watch Brébeuf suffering and his own torture began at six o'clock. The torture of the frail priest lasted most of the night, during which the Indians tore out his hair, then his eyes, cut off a hand and put hot axes around his neck.
When the Iroquois left the area, they took some prisoners with them but tied women and children to posts in their homes and set them on fire. The settlement went up in flames to the accompaniment of the shrieks of those who were burning to death.
The Hurons were finished. After attempting to develop a new settlement on St. Joseph's Island, many of them were encouraged to go to Quebec for safety. Others went west and formed a new tribe, the Wyandots, who played a part in the conspiracy of Pontiac, which will be described in May and June.
OTHER NOTABLE EVENTS ON THIS DAY IN CANADIAN HISTORY
16 MARCH
-1605 Champlain, after a hard winter on Docher Island, St. Croix River, set out to look for a better location for his settlement.
-1846 The Earl of Cathcart was appointed Governor-General of Canada.
-1856 A railway was incorporated to operate between Saint John and Shediac, New Brunswick.
-1861 Parliament met at Quebec.
-1900 The Strathcona Horse sailed for the South African War. The regiment was raised and equipped by Lord Strathcona.