HISTORICAL EVENTS THAT TOOK PLACE ON THIS DAY IN CANADA
13 March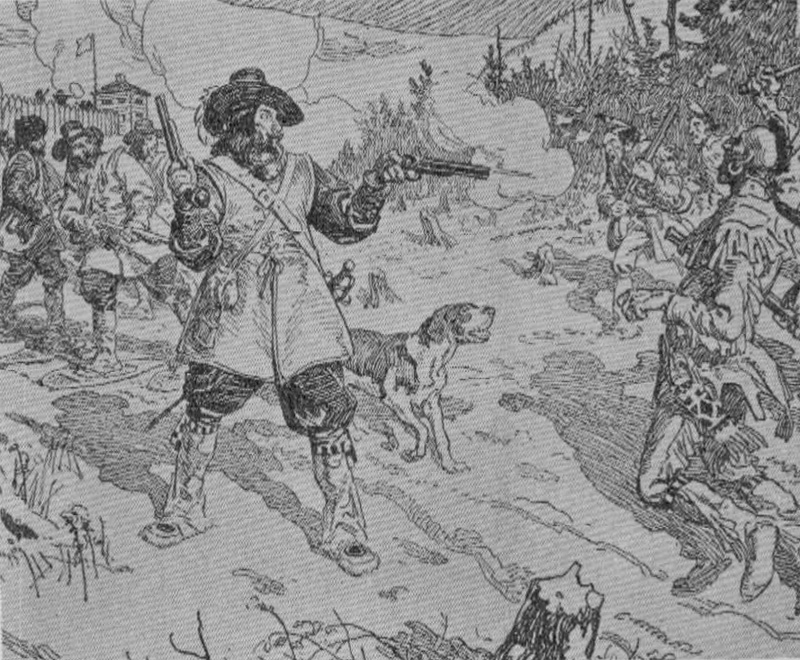 Maisonneuve fighting the Indians, 1644
Dog Signals Indian Raid
There is disagreement among historians as to whether the following incident took place on March 13 or March 30, 1644. Maisonneuve's settlers who had founded Montreal in 1642 were spending their second winter there. Their activities were restricted because the Iroquois often waited in the woods outside the stockade ready to kill anyone who ventured out.
Maisonneuve's men usually knew when the Iroquois were there because in the garrison was a dog called "Pilot," who would howl the moment she scented the Indians. She had six puppies who learned the same trick.
On March 13 or 30, as the case may be, Pilot and her puppies began to howl. Maisonneuve's men clamored to be allowed to go out and attack the Indians. Maisonneuve realized the danger but agreed to lead the assault.
It was a mistake. No sooner had they entered the woods, than they realized that there were a great many Indians there. Furthermore, they had guns as well as bows and arrows. The Iroquois, greatly outnumbering the French, spread out in an encircling movement. Maisonneuve knew then that he was trapped. The only hope for survival was to retreat along a path in the snow that had been made by hauling logs into the stockade. The Indians came racing out of the woods, leaping over snowbanks and firing their guns and arrows at the retreating French. It was only by the narrowest of margins that the survivors got back into the stockade and closed the gate. Maisonneuve was the last to enter. Three of his men had been killed, and others were wounded.
Pilot has been commemorated as one of a group of figures in a statue in Montreal. Perhaps Walt Disney's organization will produce a film about her as it did for "Greyfriar's Bobbie," of whom there is a statue in Scotland.
OTHER NOTABLE EVENTS ON THIS DAY IN CANADIAN HISTORY
13 March
-1591 The King of Portugal granted islands in the St. Lawrence to Joam Alvarez Fagundez.
-1812 David Thompson left on his last journey from Saleesh House to Fort William and Montreal, where he arrived on August 24.
-1859 John Brown, made famous in song, brought fugitive slaves to Windsor, Ontario, by "underground railway."
-1885 The British Columbia government refused to allow Chinese to land.
-1900 J. W. Tyrrell began a 1,729-mile survey from Great Slave Lake to Chesterfield Inlet.
-1909 Lord Strathcona established a fund to provide military training in schools.
-1916 Manitoba was the first province to vote for prohibition.
-1928 Eileen Vollick, of Hamilton, Ontario was the first Canadian woman to obtain a pilot's license. She was the first woman flyer to take off and land a plane on skis.
-1961 Major-General Jean Victor Allard became the first Canadian to command a British Army Division.