HISTORICAL EVENTS THAT TOOK PLACE ON THIS DAY IN CANADA
6 March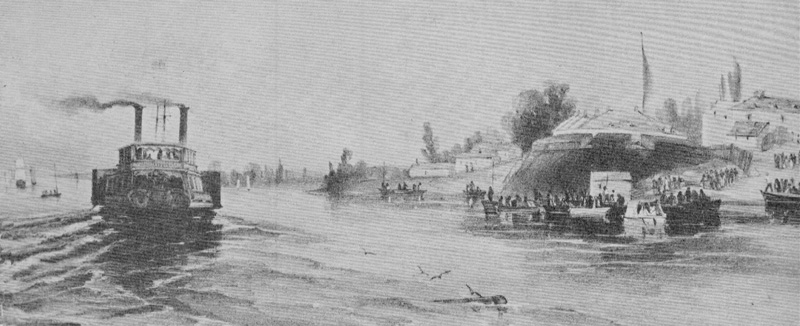 Toronto, circa, 1840
York Officially Becomes Toronto
Toronto was originally named "Toronto" by the Indians, who used its sheltered bay as a harbour. Later, French fur traders used the bay, and built Fort Rouillé there in 1749. There was, however, little habitation until 1793, when Governor Simcoe chose the site to be the capital of Upper Canada. He called it "York" to commemorate victories won by the Duke of York in the war with France.
As the community grew, the inhabitants tried several times to get the name changed to Toronto because so many other places were called York. The Assembly passed a bill to this effect in 1822, but the Governor and his Council ignored it.
Quebec and Montreal were incorporated as cities in 1832, and using this as a precedent, the people of York finally got their way. An Act of Incorporation was passed on March 6, 1834, and the city was named Toronto.
By this time there were 10,000 people in Toronto, and the first municipal election was held on March 27. Every male citizen could vote whether he was an owner or a tenant. The city was divided into five wards, each having two councillors and two aldermen. They appointed the mayor from their own ranks and the man they chose was William Lyon Mackenzie. This was intended to be an affront to the Governor and his Council, known as the Family Compact. Mackenzie was a militant reformer and had already been expelled from the legislature. This happened a number of times but he was always re-elected.
Mackenzie's first act as mayor of Toronto was to order wooden sidewalks to be built and drains to be dug. When it became known that this work would increase taxes by three-pence per pound, there was a riot in which six people were killed and others were injured. Toronto "the good" got away to a turbulent start.
OTHER NOTABLE EVENTS ON THIS DAY IN CANADIAN HISTORY
6 March
-1837 Lord Russell put ten resolutions about Canada before the British Parliament.
-1884 A free public library was established in Toronto.
-1889 Toronto Customs officers destroyed novels by Zola for being "obscene."
-1957 The Supreme Court of Canada nullified the Quebec "padlock law."