HISTORICAL EVENTS THAT TOOK PLACE ON THIS DAY IN CANADA
1 March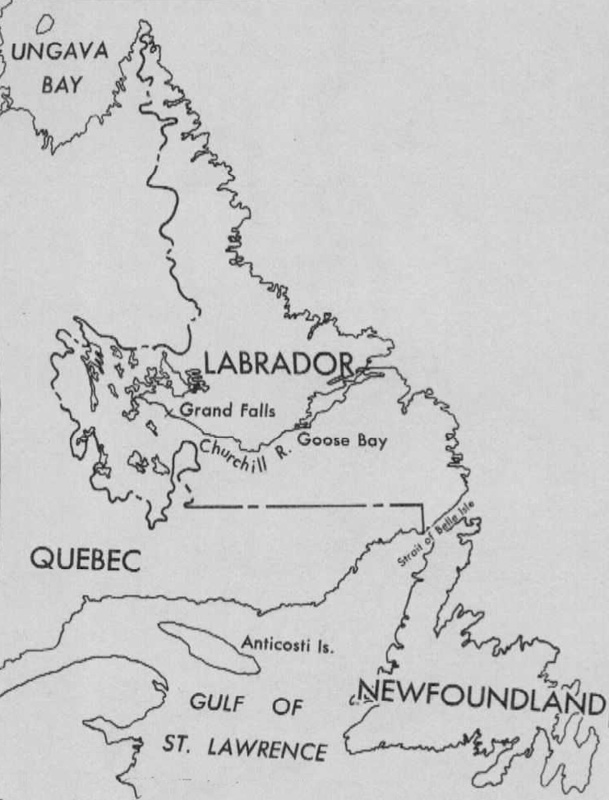 Labrador Granted to Newfoundland
When Jacques Cartier sailed along the coast of Labrador on his first voyage to Canada in 1534, he described it as "the land God gave to Cain." He felt there was a more promising future for the New World a few days later when he discovered Prince Edward Island.
Today, Labrador would be too rich a gift for the most deserving man in the world. Billions of dollars are being poured in to develop its mineral resources, especially iron ore. Newfoundland, which took over Labrador on March 1, 1927, by a decision of the Privy Council in Britain, earns $10 million a year in royalties from the iron ore alone. Electric power from the Churchill River in Labrador (see April 15) is to supply industries in eastern Canada and the United States and may even help to light New York. There is a waterfall on the Churchill 245 feet high, and the plan is to converge the river so that there will be a drop of 1,040 feet. It will provide 4,700,000 horsepower of electricity, twice as much as the output of Grand Coulee, the biggest producer in the United States.
The story of Labrador's belonging to Newfoundland rather than to Quebec is long and complicated. Newfoundland fishermen used the Labrador coast from the earliest days, and when France handed Canada over to Britain by the Treaty of Paris in 1763, Newfoundland's claims to Labrador were recognized. The boundary was supposed to be determined by watersheds of rivers running to the ocean. It was the same ambiguous kind of definition that caused difficulties between New Brunswick and Maine for many years.
After periods of recurring disputes, the problem was handed to the Privy Council in Britain in 1921. No decision had been made by 1925, and Newfoundland offered to sell Labrador to Quebec for $30 million. Since the United States had bought Louisiana from Napoleon for $27 million, perhaps it wasn't surprising that Premier Taschereau turned " own the offer. Two years later the Privy Council made its decision. The boundary between Newfoundland and Quebec is still the same today, although Quebec disputes it.
OTHER NOTABLE EVENTS ON THIS DAY IN CANADIAN HISTORY
1 March
-1632 Champlain was appointed the first governor of Canada.
-1815 The troops of Lower Canada were disbanded.
-1838 Six hundred Lower Canada rebels under Dr. Nelson surrendered to United States authority in Vermont.
-1868 Canada issued a three-cent stamp.
-1888 A parcel post was established between Canada and the United States.
-1898 The first Intercolonial Railway train arrived at Montreal.
-1939 Trans Canada Airlines (now Air Canada) inaugurated the transcontinental airmail service.
-1953 The United States removed an embargo on Canadian livestock imports.
-1963 The British Columbia government converted Victoria College to the University of Victoria and established the Simon Fraser University at Burnaby.