HISTORICAL EVENTS THAT TOOK PLACE ON THIS DAY IN CANADA
18 February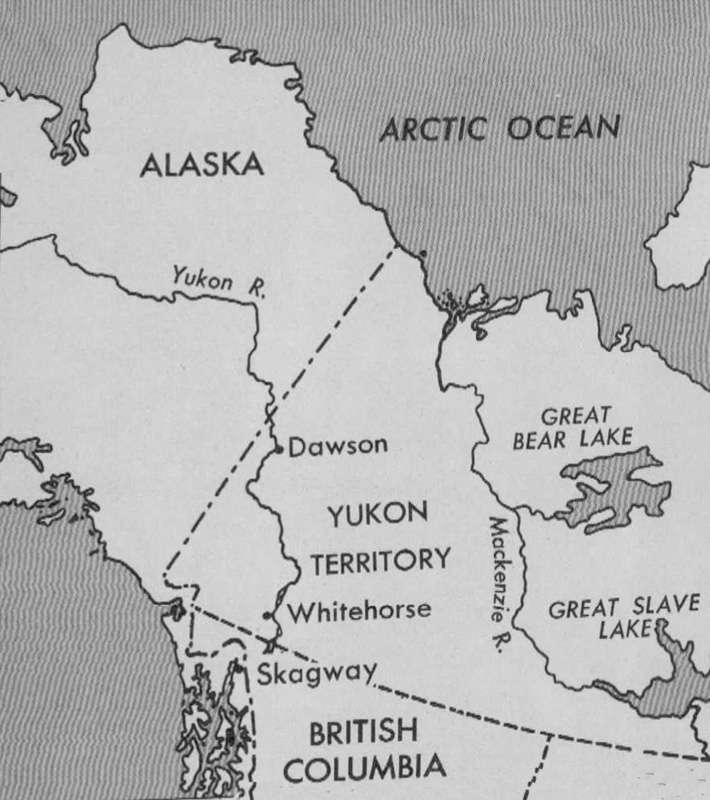 Klondike Railway Expands
Of all the gold rushes in history, the Klondike in 1898 caused the greatest hardships. The worst problem was to get to the gold fields. Some prospectors traveled 3,000 miles by ship to the mouth of the Yukon River in the Bering Sea, and then another 1,700 miles up the river to Dawson. Others went to Edmonton, "the gateway to the north," and trekked into the Yukon from there. The most popular route was by ship to Skagway, Alaska, and then overland through the mountain passes. In one year, only 2,000 out of 10,000 men who set out from Skagway completed the trip. Many died along the way, while others turned back.
At first, the horse-drawn Red Line Transportation Company carried supplies for the miners at $1 per pound. Everyone using it had to sign a pass reading "this pass is not transferable and must be signed in ink or blood by the person who, thereby accepting and using it, assumes all risk of damage to person and baggage. The holder must be prepared to mush behind. Passengers falling into the mud must first find themselves and remove the soil from their garments."
In May, 1898, a group of promoters began to build a narrow-gauge railway called "The White Pass and Yukon," It reached the summit of White Pass on February 18, 1899, and eventually completed the 110 miles to Whitehorse. Its construction was not only a battle against the elements but also against the owners of the Red Line Transportation Company. One of them was a character called "Soapy" Smith, who operated so many rackets in the Skagway area that Al Capone would be like a choir boy in comparison. Yet "Soapy" was regarded as a "Robin Hood" by many because he used some of the revenue from his crooked gambling to build churches and help the poor. His slogan was, "the way of the transgressor is hard—to quit."
"Soapy," trying to prevent the building of the railway, got involved in a gun duel with Frank Reid, Skagway engineer, and both were killed. Smith's body was put in a cart and exhibited throughout the area as a warning.
OTHER NOTABLE EVENTS ON THIS DAY IN CANADIAN HISTORY
18 February
-1686 A convent was established at Lachine, Quebec.
-1886 Archbishop Taché baptized Pound maker and twenty-eight braves at the Stoney Mountain penitentiary, following the Riel rebellion of 1885.
-1941 Sir Frederick Banting, co-discoverer of insulin, died in an airplane crash.
-1949 Royal Assent was given to the Terms of Union with Newfoundland.
-1963 Justice Minister Fleming resigned after twenty-five years in public life.
The Canada Council was given an anonymous gift of $4,250,000.
-1966 A bill was passed approving the Ontario Medicare Plane