HISTORICAL EVENTS THAT TOOK PLACE ON THIS DAY IN CANADA
15 February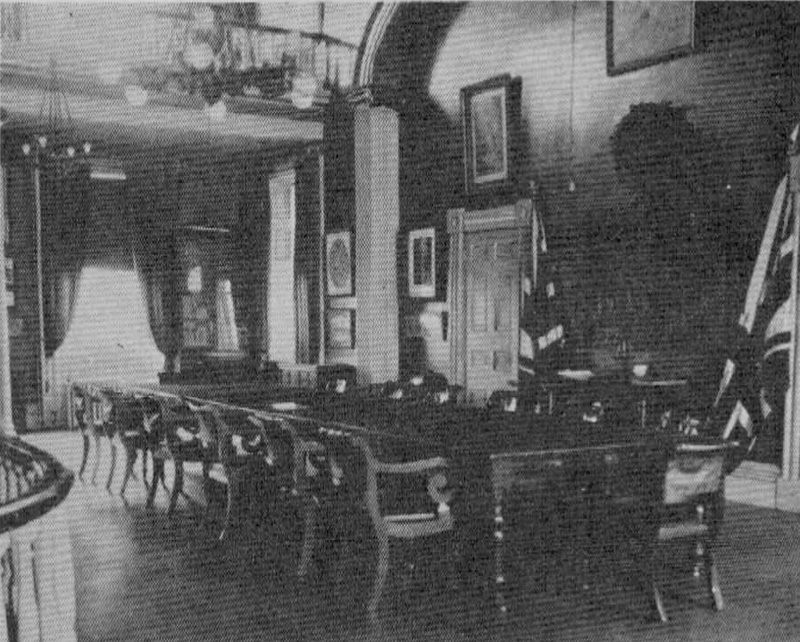 Confederation Room, P.E.I., as it appeared in 1864
P.E.I. - Tax or Unite?
Prince Edward Island is known as "the cradle of Confederation" but it did not join Canada until July 1, 1873. "The Garden of the Gulf" is the "cradle" because delegates from Canada and the Atlantic provinces met there in 1864 and took the first steps that led to Confederation. The 95,000 islanders, however, mostly Scots, wanted to retain their independence, and felt that they would be swallowed up if they joined Canada.
At the time of Confederation, Canada was embroiled in a railway building boom, and Prince Edward Island was caught in it. By 1873 the cost of laying tracks had mounted so alarmingly that the island was on the brink of bankruptcy. The Legislative Council advised the Assembly that Prince Edward Island had two alternatives: either to submit to a sharp increase in taxes to pay off the railway debts, or to become a province of Canada. On February 15, 1873, a delegation led by Premier Haythorne went to Ottawa and made a deal with Sir John A. Macdonald. When they returned, the government decided to let the people decide, and called an election.
During the campaign Conservative leader J. C. Pope contended that he could make a better deal with Ottawa, and won the election. He took another delegation to Canada, and came back with an offer that would pay off the railway debt, grant the island 50 cents per citizen, establish a ferry service to the mainland, and pay off British landholders who had obtained their property in Prince Edward Island in a lottery in 1767.
The motion to join Canada was introduced in the Assembly by Premier Pope, and seconded by David Laird, leader of the Opposition. It was passed almost unanimously.
When Governor-General Lord Dufferin visited Prince Edward Island soon after it joined Confederation on July 1, 1873, he wrote: "I found it under a high state of jubilation and quite under the impression that it is the Dominion that has been annexed to Prince Edward."
OTHER NOTABLE EVENTS ON THIS DAY IN CANADIAN HISTORY
15 February
-1625 Champlain was made representative of the viceroy to Canada and was asked to find a route to China.
-1839 Six political prisoners were hanged for their part in the rebellion of 1837-1838.
-1872 Parliament opened the session that dealt with banking and a uniform system of currency.
-1889 Militia from Manitoba suppressed a riot in North Dakota.
-1910 Canada made a trade agreement with Germany.
-1965 Canada's new maple leaf flag was raised at a special ceremony in Ottawa.