HISTORICAL EVENTS THAT TOOK PLACE ON THIS DAY IN CANADA
1 February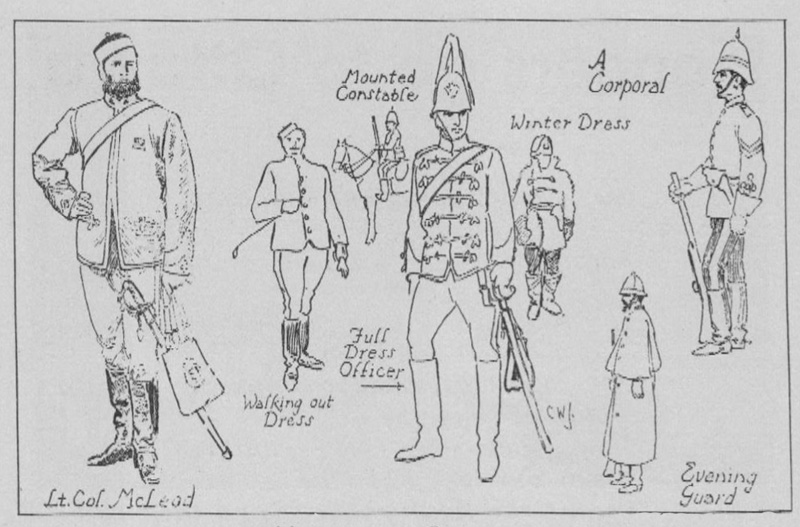 Northwest Mounted Police (1874-1885)
Mounties Join Forces
If people around the world were asked what they knew about Canada, chances are that the Mounties would get the mostmention. It was on February 1, 1920, that the original force, the Royal Northwest Mounted Police, was amalgamated with the Dominion Police, and its name was changed to the Royal Canadian Mounted Police. The official motto is Maintiens le Droit, meaning Uphold the Right, but most people are more familiar with the saying, "the Mounties always get their man."
Some form of protection was needed for the settlers moving onto the prairies, and for the Indians, who were being victimized by illicit whisky peddlers from the United States. The federal government formed a civil organization under military discipline and planned to call it the Northwest Mounted Rifles.
The United States objected to having what appeared to be an armed force along the border, so Sir John A. Macdonald changed the name to Northwest Mounted Police to prevent any misunderstanding. The men were recruited in Eastern Canada and assembled at Collingwood on Lake Huron in July, 1874. They trekked 800 miles west, and set up their headquarters in the heart of the Blackfoot country, with detachments at Forts Walsh, Calgary, McLeod, Saskatchewan, and Carlton, covering what are now Saskatchewan and Alberta.
The Mounties' control of the Indians attracted world wide attention in 1877 when Sitting Bull and his Sioux poured into Saskatchewan after annihilating the U.S. Seventh Cavalry under General Custer at Little Big Horn River, Montana. The Indians set up camp at Wood Mountain near the Cypress Hills, and refused to return to the United States.
Later in the year, a conference was arranged between Sitting Bull and General Terry, a representative of the American Government, who was accompanied by newspaper correspondents from Washington and New York. They were amazed to see how Commissioner McLeod and 150 Mounties controlled Sitting Bull and his 4,000 highly-excited followers, many of whom were armed with rifles. Sitting Bull rejected the American proposals and stayed in Canada until 1881, when starvation compelled the Sioux to return to their reservations in the United States. The Mounties kept control over many other equally dangerous situations, including the Klondike gold rush.
OTHER NOTABLE EVENTS ON THIS DAY IN CANADIAN HISTORY
1 February
-1796 The capital of Upper Canada was transferred from Niagara to York.
-1814 The 8th Regiment began its march from Fredericton to Quebec.
-1854 The Parliament Buildings were burned at Quebec.
-1858 The Douglas Law concerning miners obtaining licences in order to search for gold in the Fraser Valley came into effect in British Columbia.
-1881 C.P.R. bill was approved by the House of Commons.
-1890 Canada Atlantic Railway opened a bridge over the St. Lawrence at Coteau.
-1904 The Dominion Railway Commission was established.
-1955 Prime Minister St. Laurent was presented with the Freedom of the City of London during the Commonwealth Conference.