HISTORICAL EVENTS THAT TOOK PLACE ON THIS DAY IN CANADA
23 JANUARY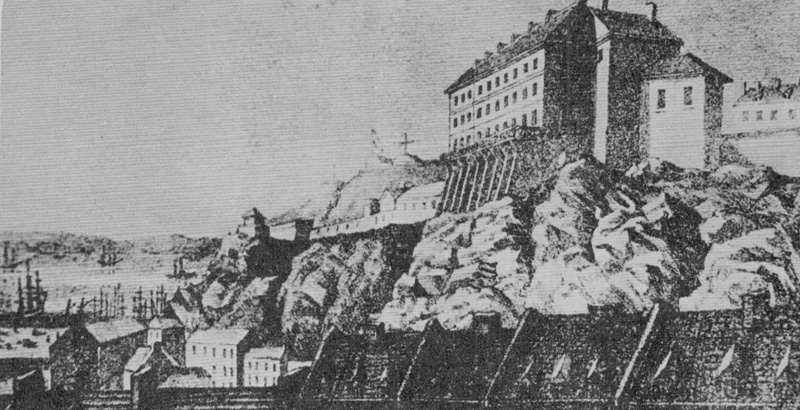 A drawing of Château Saint-Louis before the fire
Fire Destroys Famous Château Saint-Louis
When the old Château St. Louis in Quebec was destroyed by fire on January 23, 1834, it was said that. Champlain, Montmagny and Frontenac watched from Heaven. The Château was started by Champlain, and had been the home of the governors of Canada ever since. Lord Aylmer was governor of Lower Canada in 1834, but he and Lady Aylmer happened to be away on the day of the fire.
The blaze started at noon in the apartment of Captain McKinnon, an aide to the governor. The alarm was sounded by the beating of drums and the blowing of bugles in the Citadel. Soon the top floor was lost in smoke as the fire spread down, and the entire building was enveloped in flames.
The temperature was 22 below zero and fire-fighting equipment became frozen. The famous old Château was soon reduced to ruin and rubble, but fortunately valuable papers and some of its furniture were saved. Lord and Lady Aylmer moved to the Château Haldimand le Vieux, built in 1784.
Actually, the old Château was badly in need of repairs. It was said that the British kept it that way, because they liked to preserve ruins. However, it is only fair to report that not long before the fire, the Assembly had voted the equivalent of $10,000 for repairs.
Quebec itself had been fortified in 1823 on a plan drawn up by the Duke of Wellington. It was the only walled city in North America at that time. The walls and citadel had cost the equivalent of $35,000,000.
OTHER NOTABLE EVENTS ON THIS DAY IN CANADIAN HISTORY
23 JANUARY
-1831 The Lower Canada Assembly voted legal rights for Jews.
-1883 The first ice palace carnival was held in Montreal.
-1888 Natural gas was found at Kingsville, Ontario.
-1962 Old age and disability pensions were increased by $10 a month.