HISTORICAL EVENTS THAT TOOK PLACE ON THIS DAY IN CANADA
20 JANUARY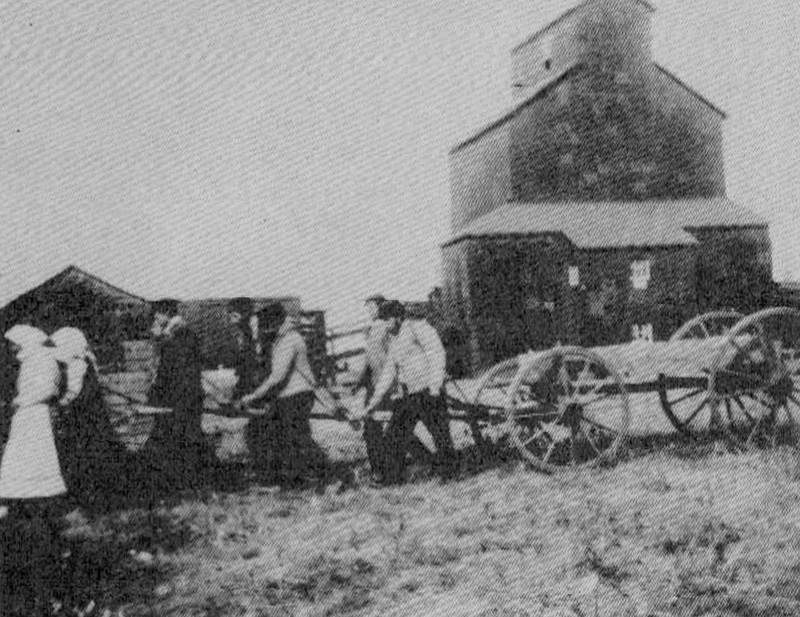 Doukhobors in the West, 1899
Doukhobors Arrive
Some of Canada's most colourful and certainly most controversial immigrants landed at Halifax on January 20, 1899. They were the Sons of Freedom Doukhobors, members of a Russian religious sect, whose coming to Canada was arranged by the famous author clod Tolstoy and financed by Quakers in Britain and the United States. By the end of June more than 7000 had arrived and were encouraged to settle in Saskatchewan. Each male was given 160 acres of land for $10.
They made good impression at first cultivating their land tending their horses and cattle carefully, and building good homes and barns. About July, 1902, the Doukhobors in the Yorkton area began to behave strangely. It is now known that an agitator from New York was circulating among them, teaching that it was a sin to wear the skin of any animal. The Doukhobors already were vegetarians, but now they stopped eating eggs, butter, and milk. They said that by drinking milk they were robbing the calves of their food.
On August 21, 1902, they turned their horses, cattle, and sheep loose on the prairies, saying they were "giving them to the Lord".
The animals had to be rounded up by government officials before they froze to death or were destroyed by wild animals.
The situation became progressively worse, especially with the arrival of Peter Verigin, a spiritual leader, on December 1, 1902. When efforts were made to force the Doukhobors to send their children to school and to abide by other laws of the land, they began staging their famous nude parades in the Yorkton area. They made winter pilgrimages to Winnipeg and other centres, carrying their sick on stretchers, and singing hymns. If they had not been rounded up by government officials and sent home on trains, many would have died. In January, 1908, they got as far as Fort William and paraded naked through the streets.
One mountie worked out an ingenious method of discouraging nude parades in the summer. He enticed the marchers into a house, and nailed the doors open. When evening came and lamps were turned on, thousands of mosquitoes came in for the feast! The Doukhobors soon put on their clothes.
OTHER NOTABLE EVENTS ON THIS DAY IN CANADIAN HISTORY
20 JANUARY
-1783 Britain and the United States signed an armistice. Fighting stopped on February 4.
-1831 The United States rejected the New Brunswick-Maine boundary award mediated by the King of the Netherlands.
-1850 Captain McClure sailed to search for the Franklin expedition; he discovered die Northwest Passage.
-1904 The federal government disallowed British Columbia act restricting immigration.
-1936 The death of King George V was announced.