HISTORICAL EVENTS THAT TOOK PLACE ON THIS DAY IN CANADA
15 JANUARY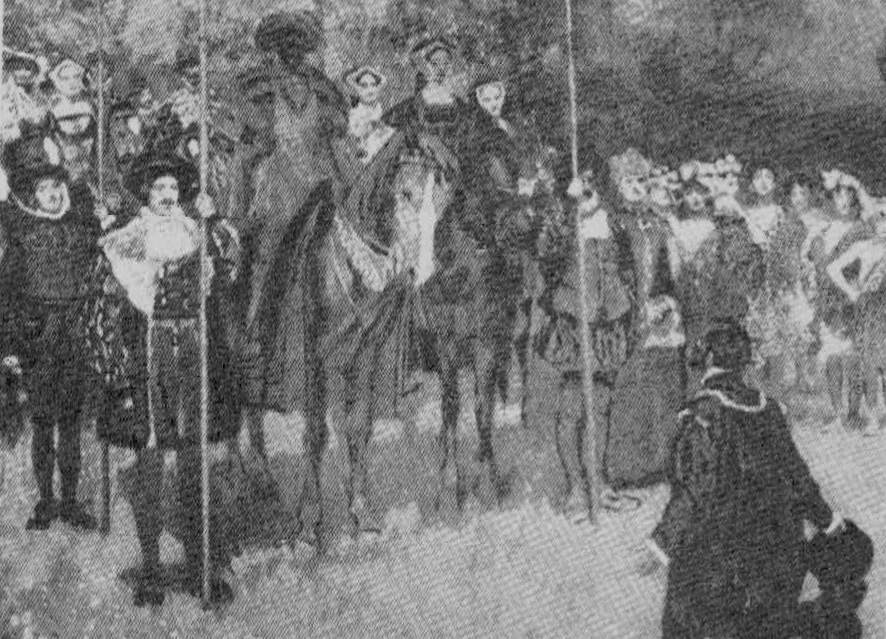 Cartier kneeling before King Francis I
Roberval Chosen Viceroy
Canada's first mining venture was a great disappointment. King Francis I grew quite excited after Cartier's visits to Canada in 1534 and 1535 and got the idea that it was a land in which flowed "rivers of gold." He decided to equip an expedition that would be bigger and better than the ones which Spain and Portugal had sent to Central America.
Francis made one bad mistake. He felt that a sea captain like Jacques Cartier was not worthy to represent him in the new land, and so on January 15, 1540 he appointed the Sieur de Roberval as Viceroy of New France and leader of the expedition.
Roberval and Cartier did not get along together, and eventually Cartier sailed alone in May, 1541. Things went badly from the start. The first time Cartier crossed the Atlantic he made the trip in three weeks. This time his five ships took three months to reach Stadacona, or Quebec.
Cartier decided to establish his colony at Cap Rouge, where Quebec bridge now stands. His men took pigs and goats on shore and cleared an acre and a half of forest in one day. Although it was August, they planted lettuce, cabbage, and turnips.
Before winter came there was great excitement when Cartier's men found what they thought were diamonds, and rocks with veins of gold. In spite of this great discovery, it was a dreadful winter, and when June came they were glad to sail back to France with their special cargo.
When they arrived at St. John's, Newfoundland, they found Roberval and his expedition on its way to Canada. Roberval tried to force Cartier to go back to Quebec with him, but Cartier slipped away in the night to report to King Francis. Roberval stayed in Quebec for a winter and his men gathered more of the diamonds before returning to France.
Unfortunately, the diamonds turned out to be rock crystal, and there was too little gold in the rocks to make mining worthwhile. For many years the expression "a Canadian diamond" was a term of derision in France, meaning something worthless. The colonization of Canada was set back more than fifty years, until de Monts obtained his charter from King Henry IV and sent Champlain to Quebec.
OTHER NOTABLE EVENTS ON THIS DAY IN CANADIAN HISTORY
15 JANUARY
-1634 Robert Giffard, secured the seigniory at Beauport, Quebec, the first in Canada.
-1635 Charles de La Tour was granted land at Saint John, N.B.
-1852 Trinity College, Toronto, was opened.
-1878 The Conservative convention adopted "the National Policy".
-1901 The Northern Pacific Railway obtained a 999-year lease on a railway line in Manitoba. The lease was transferred to the Canadian Northern Railway on February 11.
-1915 The Canadian Northern Railway between Quebec and Vancouver was completed. The last spike was driven at Basque, B.C.
-1962 The R.C.M.P. musical ride was placed on a full-time basis.