HISTORICAL EVENTS THAT TOOK PLACE ON THIS DAY IN CANADA
11 JANUARY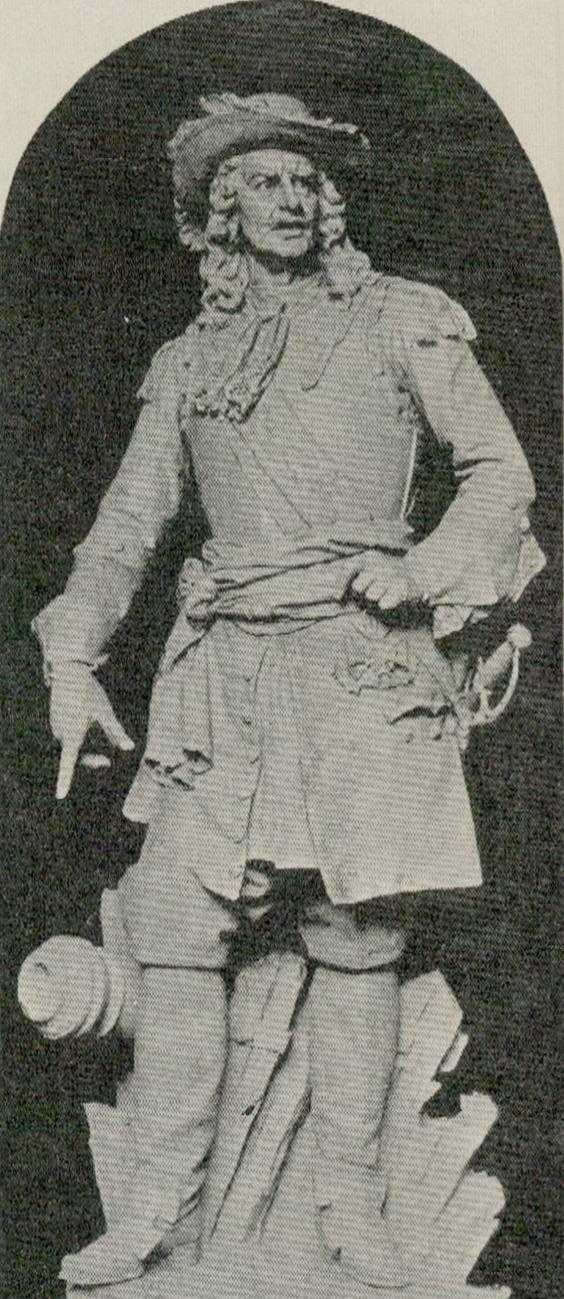 Frontenac Statue by Hébert, Québec City
FRENCH BEGIN OFFENSIVE
In his great book on early Canadian history, The White and the Gold, the late Thomas B.Costain wrote: "Some men are born for emergencies. They arc not particularly successful when life flows easily and placidly. They are prone to display faulty judgment and almost certain to get at odds with their fellows; but when a crisis arises and courageous leadership is needed, they come into their own."
It might be thought that Costain was writing about Sir Winston Churchill, who was the man of the hour in World War II. Actually, he was referring to Count Frontenac who was twice governor of New France. During his first term from 1672 to 1682 he Was involved in so many quarrels with the Bishop of Quebec and other officials of the garrison that he-h-ad- to be recalled.
Frontenac spent seven years living in retirement in France, during which time the situation in New France deteriorated seriously. British settlers in New York and the New England States were making good progress, and their friends, the Iroquois, were attacking French settlements almost at will. They even forced Governor Denonville to dismantle the fort that Frontenac had built at Kingston. Other Indian tribes began to get the impression that France was finished as a power, and that they had better side with the British.
King Louis XIV then asked Frontenac to return to New France. In words almost humble for a king, he said, "I send you back to New France where I expect you will serve me as well as you did before. I ask for nothing more."
Frontenac returned to Quebec in October, 1689, and put New France on the attack. On January 11, 1690, he organized a three pronged offensive against British settlements in New York, New Hampshire, and Maine. His aggressive policies soon impressed wavering Indian tribes and probable enabled France to retain Canada fifty years longer than what might have otherwise the case.
OTHER NOTABLE EVENTS ON THIS DAY IN CANADIAN HISTORY
11 JANUARY
-1726 The Marquis de Beauharnois was appointed Governor of New France..
-1815 Sir John A. Macdonald was born in Glasgow, Scotland.
-1905 The Tenth Parliament opened; members' sessional indemnities were increased to $2,500.
-1909 Canada and the United States formed an International Joint Commission.
-1914 Arctic explorer Stefansson's ship Karluk was crushed by ice.
-1952 British Prime Minister Winston Churchill visited Ottawa until January 15.
-1956 Mrs. Ann Shipley was the first woman to move the address in reply to the Speech from the Throne in the House of Commons.