HISTORICAL EVENTS THAT TOOK PLACE ON THIS DAY IN CANADA
9 JANUARY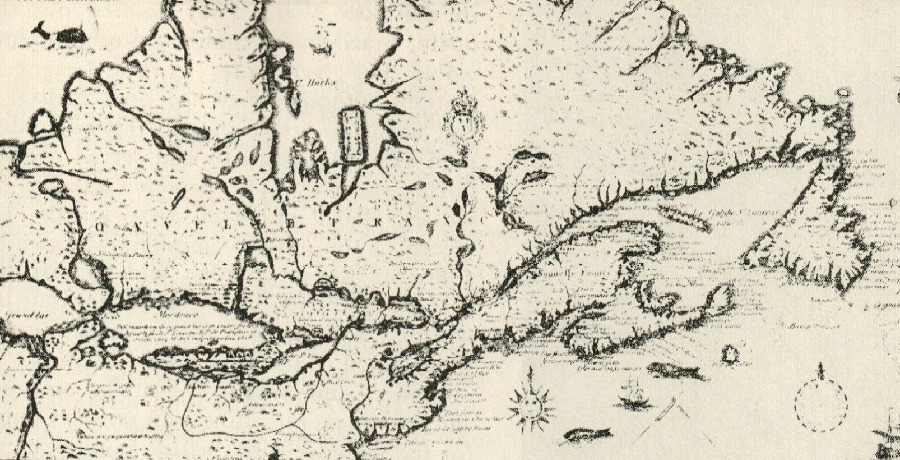 Champlain's map of Canada
Champlain Publishes Voyages
On January 9, 1613, Champlain published his Voyages, describing his adventures from 1604 to 1612. Around this time he also published several maps. (The map shown above was published in 1632.) Champlain showed great skill as a cartographer and these maps are still fascinating. King Henry IV was so impressed with Champlain's maps of Mexico that he appointed him royal cartographer.
When Champlain explored Canada from Nova Scotia to Lake Huron, he not only acquired a remarkably accurate impression of the terrain, but a good knowledge of the Indians as well. In 1615 he was forced to spend the winter in a Huron village after being wounded in an attack on the Iroquois. This enabled him to learn a great deal of lore the Indians normally would not tell a white man. He discovered that they were afraid to talk during the summer because they believed their gods roamed the woods, sat on their shoulders, and listened to everything they said. In the winter they were more willing to talk because they believed these same gods were frozen in blocks of ice!
The late Thomas B. Costain, in his book The White and the Gold, says there was one secret that Champlain did not learn: the Indians' conviction that there was one God greater than the gods they feared. Recent research into Indian legends, expressed in pictures on blocks of wood, has revealed their understanding of the creation of the world to be remarkably like the first chapter of Genesis: "At first there were great waters above all the land, and above the waters were thick clouds, and there was God the Creator."
OTHER NOTABLE EVENTS ON THIS DAY IN CANADIAN HISTORY
9 JANUARY
-1666 Courcelle led an expedition from Quebec to attack the Mohawks.
-1760 Nova Scotia Micmac Indians made peace with settlers.
-1786 The first legislature of New Brunswick opened at Saint John.
-1862 The Grenadier Guards landed at Halifax because of the possibility of a war with the United States of America.
-1885 An international bridge was opened at Sault Ste. Marie, Ontario.