HISTORICAL EVENTS THAT TOOK PLACE ON THIS DAY IN CANADA
6 JANUARY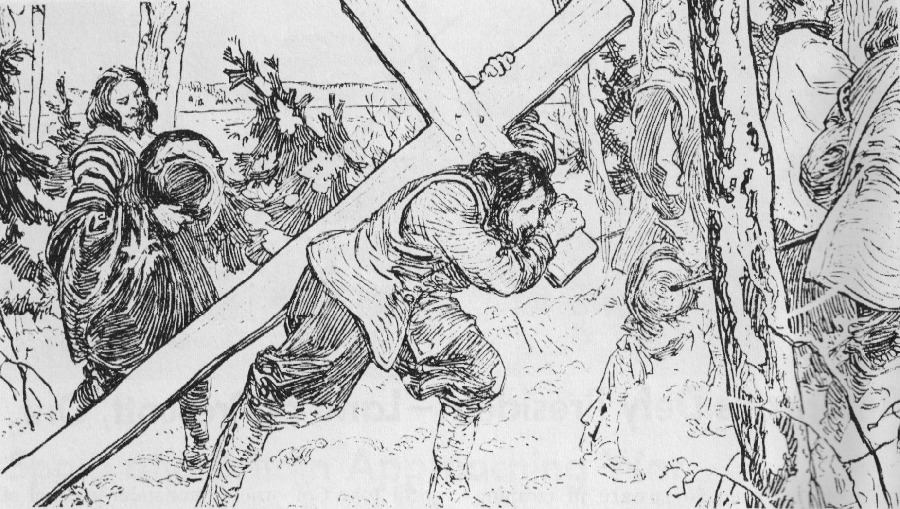 Maisonneuve at Mount Royal, 1643
Maisonneuve Erects Cross To Celebrate Epiphany
At night, when its lights can be seen for many miles, the huge cross on Mount Royal is one of the most impressive sights in Montreal. The original cross was planted near there on January 6, 1643, by Sieur de Maisonneuve, the founder and first governor of Ville Marie, now Montreal.
The occasion was the Feast of the Epiphany, and Maisonneuve had a pathcleared through the snow so that he and his party could carry a wooden cross to the top of the mountain. It stood there for many years until it was replaced by its modern counterpart.
Montreal had only been founded the previous May and was the crossroads of a number of routes used by the fierce Iroquois. During the summer Maisonneuve's men had built a habitation for sixty people, protected by a strong wooden palisade. It was always dangerous to go outside the walls because the Iroquois lurked in the woods looking for opportunities to kill the white settlers. The party that climbed the mountain on January 6 was no doubt well-armed and kept a sharp lookout.
Among the company were two remarkable women, Jeanne Mance and Madame de La Peltrie, who respectively founded a hospital at Montreal and the Ursuline convent at Quebec. More about these courageous women will be heard in later stories.
OTHER NOTABLE EVENTS ON THIS DAY IN CANADIAN HISTORY
6 JANUARY
-1685 La Salle reached the mouth of the Mississippi River.
-1789 Lord Dorchester (formerly Sir Guy Carleton) established the first agricultural college at Quebec.
-1807 Reine Lajimonière was the first whitechild born in Western Canada.
-1877 Canada's first flour mill (McLean's) was established in Manitoba.
-1915 Princess Patricia's Canadian Light Infantry went into action in France.