HISTORICAL EVENTS THAT TOOK PLACE ON THIS DAY IN CANADA
3 JANUARY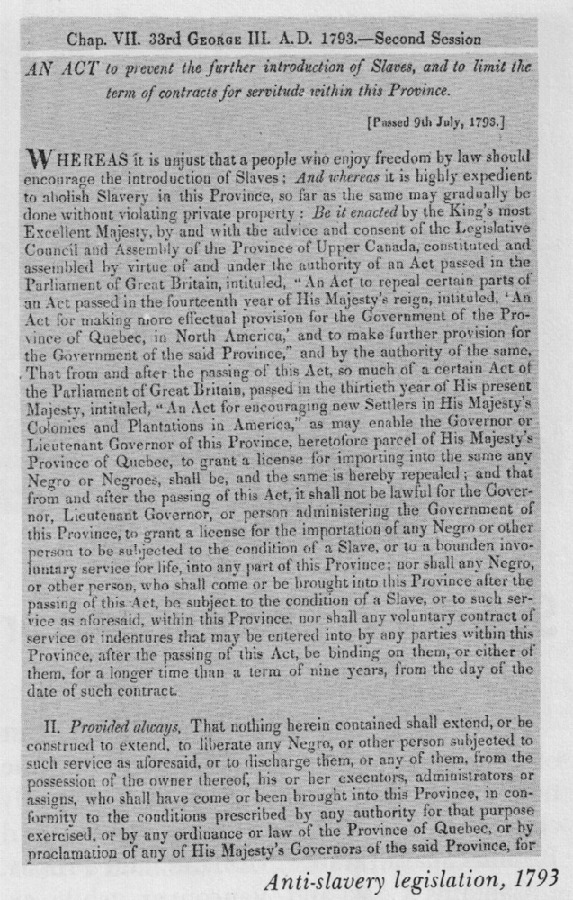 Slavery Ends in Canada
On this day in 1802 the Niagara Herald carried the following advertisement: "For sale, a Negro slave eighteen years of age, stout and healthy; has had the small-pox and is capable of service either in the house or out-of-doors. The terms will be made easy to the purchaser, and cash or new lands received in payment. Enquire of the publisher."
Although the advertisement seems cruel today, we should remember that Canada ended slavery long before the United States Congress passed anti-slavery legislation in 1862. Upper Canada prohibited the importing of slaves in 1793, mainly because Governor Simcoe was an abolitionist. However, many of the United Empire Loyalists had brought slaves with them and were allowed to keep them. Legislation provided that children of slaves would be freed when they became twenty-five years of age. The boy in the advertisement would therefore have been freed seven years later.
During the War of 1812 many American slaves discovered that there was freedom in Canada, and an underground system was developed to transport them across the border. By 1850 it was estimated that as many as 40,000 slaves had settled in the communities along the border, chiefly between Windsor and Niagara Falls.
Reverend Josiah Henson, whose experiences inspired Harriet Beecher Stowe to write Uncle Tom's Cabin, settled in Dresden, Ontario, where there is now a memorial to him. John Brown, immortalized in the song about his body lying "a-mouldering in the grave", held a big convention at Chatham in 1858 and in the following year, used the "underground" to smuggle twelve Negro slaves to Windsor.
Lower Canada and the Maritimes did not pass anti-slavery legislation, but their courts refused to recognize the rights of masters over slaves, and this had the same effect.
OTHER NOTABLE EVENTS ON THIS DAY IN CANADIAN HISTORY
3 JANUARY
-1800 Attorney-General John White of Upper Canada was killed in a duel by John Small, Clerk of the Council.
-1802 Three hundred Highlanders from Scotland settled in Sydney, Nova Scotia.
-1862 Eight hundred and fifty officers and men of the Rifle Brigade of Britain landed at Saint John, New Brunswick and were transported to Quebec in sleighs. There was danger of war between Britain and the United States and a total of 3,000 troops was sent to defend Canada.
-1863 The first covered skating rink in Canada opened at Halifax, Nova Scotia. It is claimed that the first ice hockey was played on the Dartmouth Lakes. Kingston, Ontario, disputes this claim.